The "original" Busch Gardens, the Bird Gardens area is where it all began for the Tampa park with lush tropical gardens and exotic birds. Today, guests will still find a variety of gardens and birds throughout the area, along with newer additions like the Australian-themed Walkabout Way area.
Fast Facts
Open Date: March 31, 1959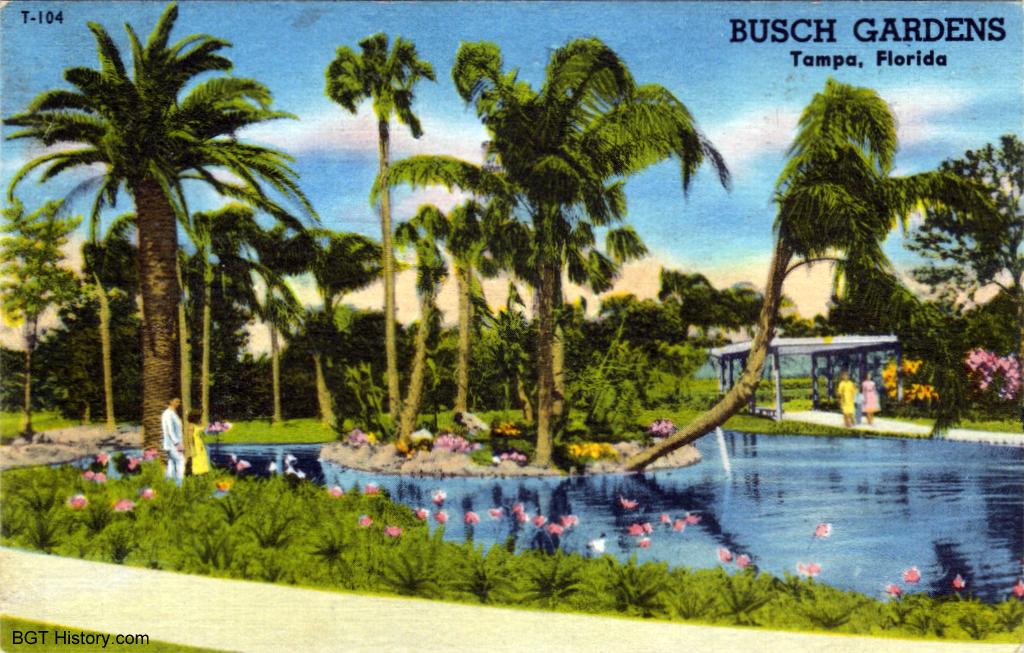 ---
Today
In addition to the botanical sights, Bird Gardens also has a variety of animal habitats, photo-ops, dining & shopping options. Beyond the year-round things to do in Bird Gardens, the area also serves as the entrance to the festival area and often becomes part of those events with temporary food, merchandise, and game booths.
Animal Habitats
Flamingo Island
Kangaloom (in Walkabout Way)
The Kookaburra's Nest (in Walkabout Way)
Lory Landing
Reptile & Bird Exhibits
Dining
Entertainment
Shopping
(This section is a work in progress.)
---
History
The Bird Gardens section began as 15 acres filled with tropical foliage and some 1,400 exotic birds, many of them free-roaming. Outside of the brewery tour and free samples at the Hospitality House, the gardens were the main attraction for many early visitors to the park. By 1967, it was reported this section of the park held some 100,000 flowers and 150,000 other plants including trees and shrubs.
In addition to the pathways that allowed guests to wander through the gardens, early attractions included the Amphitheater with free shows with performing birds, the Adolphus Busch Space Frame (also known as the Geodesic Dome) which held some of the more rare birds, and Dwarf Village, which featured scenes from popular children's tales in miniature.
By 1977, it was reported there were some 2,500 exotic birds as part of the area, along with a bird show and a puppet show.
In more recent years, a number of special activities have occurred within the Bird Gardens area.
An all-new experience, an interactive Pumpkin Patch, debuted on the lawn between Xcursions and Walkabout Way on October 5, 2011. There was a children's hay maze, various games, crafts, fall-themed photo ops, special appearances from Sesame Street characters The Count and Abby Cadabby, and the option to purchase and paint pumpkins to take home. The Pumpkin Patch was open daily and ran through November.
For Easter in 2012, a new experience was offered on the lawn outside Xcursions. An egg hunt was held five times daily, with every child receiving a gift for participating. There was also a craft station, photos with the Easter Bunny, and a Pick-a-Pop game. Participation in the egg hunt and craft station was $5, and a photo with the Easter Bunny was available for $10.
As of Summer 2012, there were two species of peafowl roaming around the area – Indian and Javan. There were four Indian peafowl – two white females, one white male, and one blue female. One of the white females "adopted" Javan peafowl chicks, who were born to their parents that resided in the Jungala section of the park.
In November 2012, two new topiaries went on display on the corner of the lake outside of Garden Gate Cafe – a Commerson dolphin representing SeaWorld and another representing turtles swimming around coral. (These were removed by Spring 2017.)
Easter festivities returned to the lawn outside Xcursions in 2013. From mid-March through Easter Day, March 31, guests could participate in an egg hunt, held each hour from 10 a.m. to 5 p.m. daily. There were also crafts, games, and a photo op with the Easter Bunny. Pricing remained the same as it was in 2012.
In late August 2015, the path between Flamingo Island and Kangaloom closed in order to be significantly widened. The Kookaburra's Nest was closed during this work. Guests could still access Kangaloom from the opposite side coming from the Garden Gate area.
In early 2017, a new addition appeared in the small butterfly garden area along the path between Garden Gate Cafe and the flamingo habitat. A small frog topiary was installed, which looked like it was leaping forward to catch its next meal. Around the same time, the memorial bench for Pinky was moved from outside Jambo Junction to the small deck overlooking the flamingo habitat.
On March 7, 2018, Wild Blue Country, a United States Air Force Academy Band, performed on Coca-Cola Stage across from Garden Gate Cafe at noon and 1:30 p.m. In celebration of Cinco de Mayo, special food, beverages, and entertainment were available around the Coca-Cola Stage near Garden Gate Cafe were available on May 5, 2018. The Coca-Cola Share a Coke Tour stopped at the park on June 10, 2018, and set up along the Gwazi Park pathway.
From April 14 to 21, 2019, the Easter Bunny was available for pictures at select times beginning at 11:30 a.m. daily on the deck overlooking the flamingo habitat.
Wendy's visited the park on August 3, 2019, with free samples of their maple bacon frosty.



---
Images
Additional details and images about Bird Gardens will be added in the future.
---
Sources:
Boca Raton News – June 18, 1967 – accessed 2/4/2017
St. Petersburg Times | Jul 29 1977 – accessed 1/21/2018
Busch Gardens Tampa Bay | Apr 4 2012 – accessed 4/15/2018
Busch Gardens Tampa Bay | Jul 24 2012 – accessed 4/19/2018
Busch Gardens Tampa Bay | Oct 8 2012 – accessed 4/22/2018
Busch Gardens Tampa | Mar 14 2013 – accessed 5/8/2018
Busch Gardens Tampa Bay | Oct 3 2011 – accessed 12/17/2018
Busch Gardens Tampa Bay | Easter Celebration – accessed 4/17/2019
Twitter – @BuschGardens | Mar 6 2018 – accessed 7/20/2019
Twitter – @BuschGardens | May 3 2018 – accessed 7/26/2019
Twitter – @BuschGardens | Jun 10 2018 – accessed 7/26/2019
Twitter – @BuschGardens | Aug 3 2019 – accessed 12/18/2019
Pixels At The Parks | Sep 1 2015 – accessed 10/10/2016
Touring Central Florida | Feb 5 2017 – accessed 4/24/2019
Last update: November 12, 2020