Flamingo Island, located in the Bird Gardens section, has been around since Busch Gardens opened in 1959. It's home to the largest species of the tall pink birds, the Caribbean Flamingo. Dozens of brightly colored flamingos can be seen strolling in the grass and in the water.
Fast Facts:
Official Open Date: June 1, 1959
Also Known As: Flamingo Area, Flamingo Lagoon, Flamingo Point
Location: Bird Gardens
Species: Caribbean Flamingo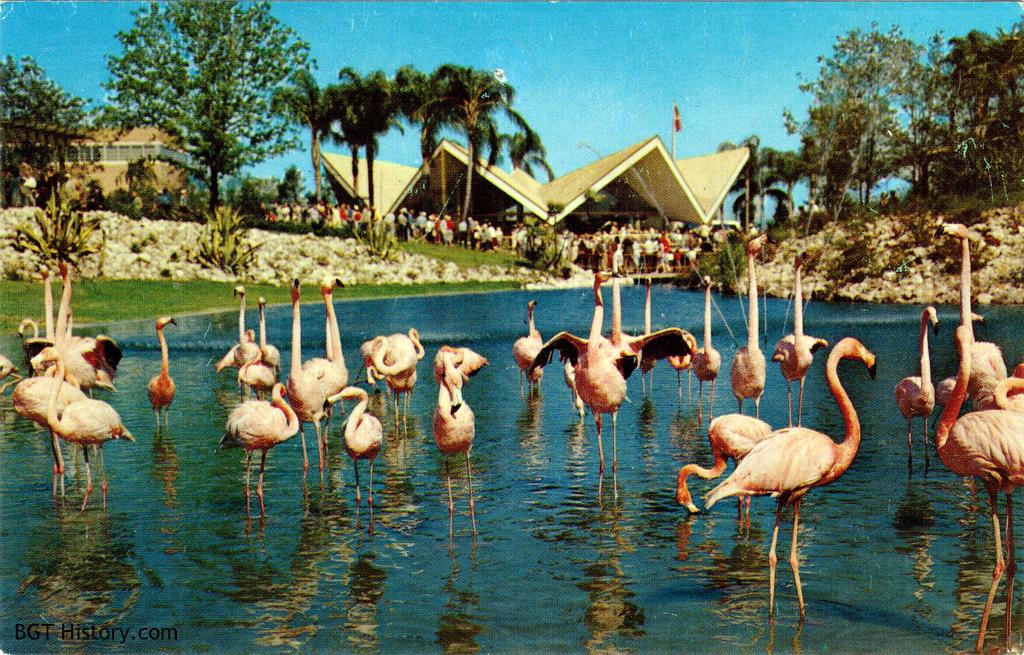 ---
History
At the time of the park's dedication on March 31, 1959, there were approximately 50 flamingos in the park.
The area was listed by a number of different names on maps over the years, including simply being referred to as Flamingo Area in the first decade, Flamingo Lagoon and Flamingo Point in the 1970s, and Flamingo Island from the 1980s until the early 2000s. By the second decade of the new century, the maps no longer listed Flamingo Island as a distinct attraction.
In the summer of 2014, Flamingo Island was noted as one of the largest flocks in the US, with over 125. The flock constructed more than 35 nests earlier in the year, which is part of an annual occurrence. The first chick hatched in early summer, and by the beginning of August, nine had hatched, surpassing recent seasons' numbers of chicks born.
In late August 2015, the path in front of the habitat was closed as part of a project to widen the sidewalk in the area.
---
Images
Scenes from Flamingo Island were a popular choice for early postcards sold at Busch Gardens.
---
Sources:
Busch Gardens Tampa | Aug 8 2014 – accessed 7/5/2018
Pixels At The Parks | Sep 1 2015 – accessed 10/10/2016
Tampa Times | Mar 30 1959 – accessed 12/23/2020
Last update: February 6, 2021