It all started with the brewery. The Busch Gardens we know today exists because the Anheuser-Busch company opened a new brewery in Tampa. In an effort to promote the company's products, tours of the brewery were given as part of a free attraction which also included manicured tropical gardens and a collection of exotic birds.
Fast Facts:
Official Open Date: March 31, 1959
Close Date: December 21, 1995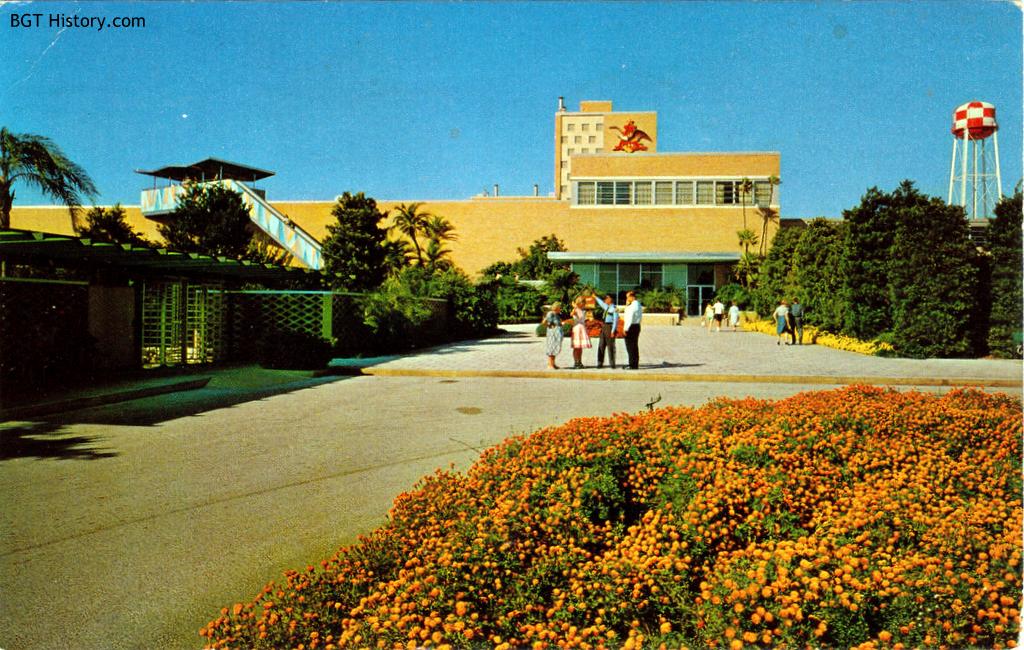 ---
History
Tours of the brewery began when the park opened in 1959. Postcards and other advertisements touted the initial investment in the facility as $25 million.
Guests began their tour on the Stairway to the Stars, a large outdoor escalator that led up to an observation platform on the brewery's roof. From there, guests would enter the plant and eventually end up exiting across a cantilevered ramp near the Hospitality House, where free samples of Anheuser-Busch products could be enjoyed.
When it opened, the brewery had a capacity of 550,000 barrels to serve five states. By 1967, the brewery was listed as a $37 million facility with a capacity of over 1 million barrels serving only Florida.
The brewery continued to operate at the park until late 1995 when it was closed as part of corporate restructuring. At the time, it was Anheuser-Busch's smallest brewer employing approximately 375 workers. The last of the beer was shipped out of the brewery in early December, and the final handful of workers closed out their last shift at 3 p.m. on December 21, 1995.
It was later demolished and a large portion of the land it occupied was used for Gwazi, a wooden roller coaster that opened in 1999.
---
Images
Being the main reason for Busch Gardens' existence, it should be no surprise that a great number of postcards, photographs, and other souvenir and advertising items were centered around the brewery. In the gallery below are a number of postcards of the brewery from different angles, both where it is the main subject in the image and where it shows up in the background as well.
Additional details and images on the Anheuser-Busch Brewery will be added in the future.



---
Sources:
Tampa Bay Business Journal | Dec 23 1996 – accessed 9/9/2016
St. Petersburg Times | Dec 22 1995 – accessed 1/14/2017
Boca Raton News | Jun 18 1967 – accessed 2/3/2017
Park Brochure | 1970 (Author's Collection)