Offering guests free samples of Anheuser-Busch products and views of the lagoon and gardens, the Hospitality House was a popular spot for those visiting Busch Gardens.
Fast Facts
Official Open Date: June 1, 1959
Location: Bird Gardens
Replaced By: Garden Gate Cafe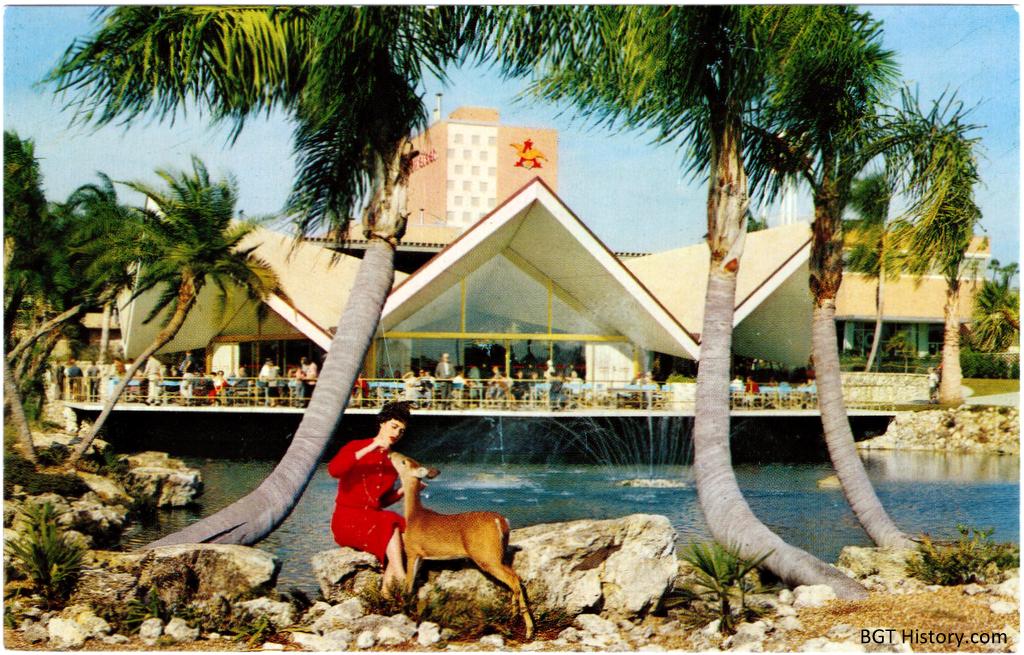 ---
History
After touring the Anheuser-Busch Brewery, guests were welcome to stop in the Hospitality House for free samples of Anheuser-Busch products. A late 1960s brochure states visitors could enjoy complimentary Budweiser, Busch, and Michelob products.
The heptagonal (or seven-sided) roofed structure was designed by St. Petersburg architect William B. Harvard. The main glass-enclosed room with the bar offered over 3,000 square feet of space. Altec Stereophonic Music was used in the Hospitality House and elsewhere in the gardens.
Hospitality House also featured a cantilevered deck overlooking the lagoon where adults could enjoy their complimentary drinks. A 1970 brochure noted there were also restrooms, first aid, lost & found, stroller & wheelchair rentals, and general information about the park available at the Hospitality House.
Along with the free beer samples, other light refreshments and snacks were available. Various entertainment was also presented at Hospitality House, including a Banjo Duo listed during the 1974 season.
In 1976, guests of age could enjoy three free samples of Anheuser-Busch products at Hospitality House and Treetops.
Today, the former Hospitality House building is known as Springs Taproom, which offers a variety of beers and light snacks for purchase.
---
Images
The Hospitality House was a popular subject in early postcards from Busch Gardens Tampa.
Additional details and images on the Hospitality House will be added in the future.



---
Sources
Park Brochures – Late 1960s, 1970 (Author's Collection)
Park Map – 1974 (Author's Collection)
Tampa Times | Mar 30 1959 – accessed 12/23/2020
St. Petersburg Times | Mar 31 1959 – accessed 12/24/2020
St. Petersburg Times | Apr 1 1959 – accessed 12/25/2020
Tampa Tribune | Jun 15 1959 – accessed 1/2/2021
The Evening Independent | Feb 3 1976 – accessed 7/10/2023
Last update: July 10. 2023