Turn It Up! was the main season show in the Moroccan Palace Theater from late spring 2017 until March of 2020. It has not yet returned to the theater following the park's extended closure.
Fast Facts:
Official Opening Date: May 26, 2017
Venue: Moroccan Palace Theater
Replaced: Iceploration



---
History
In the days before Iceploration had its final performances, the park teased a new show on its Snapchat and Instagram accounts on April 20, 2017, with two short clips of rehearsals.
On May 18, 2017, the park released a short video about the new show coming to Moroccan Palace, featuring the park's vice president of entertainment, Jamie Johnson.
Several days later on May 24, 2017, Turn It Up! was confirmed as the name of the new show with the release of Summer Nights 2017 details.
Turn It Up! officially opened on May 26, 2017, after a couple of days of public technical rehearsals. It was advertised at the time as a new seasonal show as part of Summer Nights 2017, and billed as an "all-new, original ice show vibrantly celebrates summer with contemporary performances, aerial moments, and eclectic pop music." The new show was 22 minutes long and featured a total of 65 costumes at the time of its debut.
Annual pass members were able to get an exclusive inside look at Turn It Up! during a presentation at 5 p.m. on June 24, 2017.
The new show was promoted as part of the Summer Nights 2017 printed guide.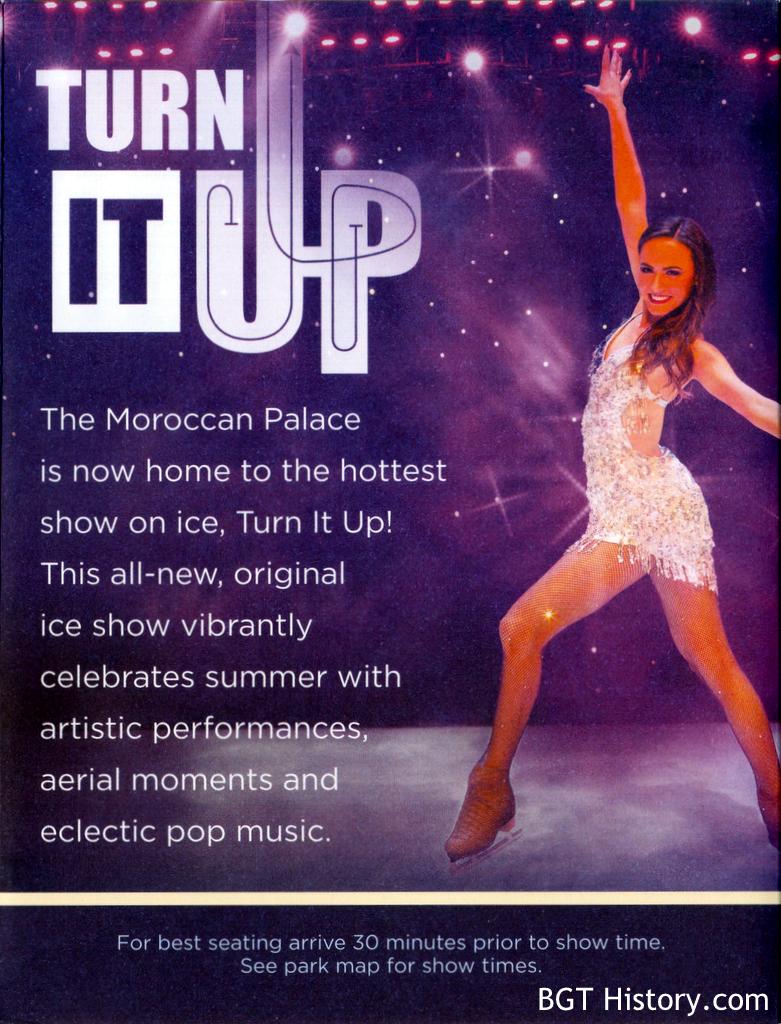 Turn It Up! ended its first season run on October 29, 2017. Several days before the end of the season, the park confirmed it would return as the main season show at Moroccan Palace in early 2018.
At the International Association of Amusement Parks and Attractions (IAAPA) Expo in November 2017, Turn It Up! received a Brass Ring Award for Most Creative Sports/Stunt Show.
Returning for its second season by January 18, 2018, about a month later on February 17 entertainment tech Dontell Young proposed to his girlfriend Sharnel on stage following a performance.
Several days later on February 24, 2018, the park shared a video highlighting some of the stars and their moves:
Turn It Up! would take fifth place for Best Amusement Park Entertainment in the 10Best Reader's Choice Awards for 2018.
Additional information on Turn It Up! may be added in the future.
---
Sources:
Twitter – @androckb | Oct 24 2017 – accessed 1/10/2018
Twitter – @BuschGardens | May 18 2017 – accessed 7/10/2019
Twitter – @BuschGardens | May 24 2017 – accessed 7/10/2019
Twitter – @BuschGardens | Jul 27 2017 – accessed 7/12/2019
Twitter – @BuschGardens | Nov 16 2017 – accessed 7/16/2019
Twitter – @BuschGardens | Jan 18 2018 – accessed 7/19/2019
Twitter – @BuschGardens | Feb 19 2018 – accessed 7/20/2019
Twitter – @BuschGardens | Feb 24 2018 – accessed 7/20/2019
Twitter – @BuschGardens | Jun 22 2018 – accessed 7/31/2019
Twitter – @androckb | Apr 20 2017 – accessed 11/14/2020
Twitter – @androckb | May 24 2017 – accessed 11/15/2020
Twitter – @androckb | May 25 2017 – accessed 11/15/2020
Touring Central Florida | Jun 13 2017 – accessed 2/9/2019
Twitter – @androckb | Jun 24 2017 – accessed 12/10/2020
Last update: January 25, 2021