An open-air market between Cobra's Curse and Montu, Serpent's Snacks offers grab-and-go snacks, ICEEs, and fountain beverages through Coca-Cola Freestyle machines.
Fast Facts
Open Date: May 5, 2016
Location: Egypt
Replaced: Sifting Sands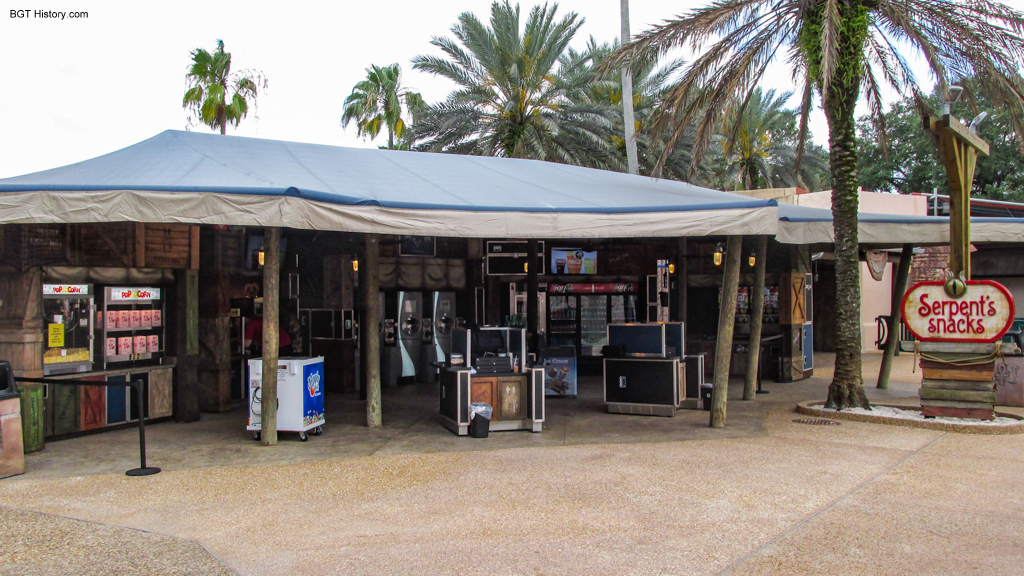 ---
History
Following the 2015 holiday season, all of Egypt was temporarily closed beginning January 4, 2016, for work related to the Cobra's Curse project. When the area reopened in late February, construction walls were up around the former Sifting Sands attraction and neighboring Pyramid Joe's concession stand.
In an article published on March 20, 2016, Pixels At The Parks reported the area behind the walls where Sifting Sands and Pyramid Joe's were previously located would become a new open-air market concession with grab-and-go snacks and Coca-Cola Freestyle machines, plus rental lockers for Cobra's Curse. Plans called for approximately 1566 square feet under canopy for the market. Busch Gardens confirmed the report several days later.
By the third week of April 2016, much of the major construction work for the market was finished, and for the first time, the name was revealed on a newly installed sign behind the construction walls – Serpent's Snacks.
The walls came down and Serpent's Snacks was open to guests for the first time on May 5, 2016. Along with snacks and drinks available for purchase, the new market featured a number of theming elements related to Cobra's Curse and Egyptian archaeology sites in general. Those included repurposed crates, some with the Viper International Survey and Excavation (VISE) logo on them, which was the fictitious company that unearthed the Cobra's Curse site according to the story developed by the park.
Additional theming elements were added in the weeks after the initial opening, including several Coca-Cola signs and advertisements in foreign languages.
At the time of its opening, Serpent's Snacks was the second location to offer Coca-Cola Freestyle machines at Busch Gardens Tampa. Introduced around the time Cobra's Curse opened, an exclusive flavor called "Cobra's Twissst" was available at the Freestyle machines at both Serpent's Snacks and Zagora Market. It featured a peach-infused Coca-Cola flavor. The formulation changed slightly in the weeks after the roller coaster opened.



---
Sources:
Busch Gardens Tampa Bay | May 20 2016 – accessed 7/31/2018
Busch Gardens Tampa Bay | Jun 30 2016 – accessed 8/1/2018
Twitter – @BuschGardens | May 16 2016 – accessed 7/2/2019
Pixels At The Parks | Jan 11 2016 – accessed 1/14/2016
Twitter – @androckb | Feb 21 2016 – accessed 11/2/2020
Twitter – @androckb | Feb 25 2016 – accessed 11/2/2020
Pixels At The Parks | Mar 20 2016 – accessed 4/5/2016
Twitter – @androckb | Mar 28 2016 – accessed 11/3/2020
Pixels At The Parks | Apr 12 2016 – accessed 4/16/2016
Pixels At The Parks | Apr 24 2016 – accessed 10/10/2016
Twitter – @androckb | May 5 2016 – accessed 11/3/2020
Pixels At The Parks | May 8 2016 – accessed 6/2/2016
Pixels At The Parks | Jun 9 2016 – accessed 6/23/2016
Twitter – @androckb | Jul 2 2016 – accessed 11/6/2020
Last update: July 10, 2023