Mardi Gras 2023 at Busch Gardens Tampa was scheduled on weekends beginning January 14 and continuing through March 5, 2023. Advertised on the park's website as a family-friendly event, Mardi Gras 2023 included live entertainment and special food & beverage items.
---
Event Details
Kicking off Saturday, January 14, 2023, the event was scheduled to continue each Friday, Saturday, and Sunday through its end on March 5, 2023. Mardi Gras was also scheduled on two Mondays during that period – January 16 and February 20, 2023. The event was concentrated in the Bird Gardens area of the park surrounding the new Springs Taproom.
Entertainment included a Mardi Gras Parade, Brass Band, and a "Bead Balcony" where guests could catch beads several times a day.  A variety of special dishes and drinks were available at eight locations as part of Mardi Gras, with offerings including gumbo, jambalaya, etouffee, beignets, and hurricanes. Culinary locations were scheduled to open at noon on event days. Mardi Gras themed souvenirs were available at French Quarter Pop Up just outside of Xcursions (shown as #2 on the Mardi Gras Locations map).
Guests could purchase sampler lanyards which allowed for either 5, 10, or 12 food or beverage items from Mardi Gras culinary locations for a set price. All guests could purchase a 5-item sampler for $40 or a 10-item sampler for $60. Annual pass members could also purchase a 12-item sampler for $60 instead of the 10-item version.
A VIP Mardi Gras Tour was also offered for most of the event. The two-hour tour was offered on Fridays through Sundays from January 27 through March 5. On Fridays and Sundays the tour began at 1 p.m., and on Saturdays was offered at 1 p.m. and 4 p.m. The price was $99.99 per person and was available for up to 8 guests per tour. The price included the tour through the Mardi Gras area, up to five food & beverage samples, one-time front-of-the-line access to a major roller coaster, and a complimentary cup of food for the kangaroos and lorikeets. The tour was open to all guests; those under 18 were required to be accompanied by a paying adult. Park admission was not included with the tour but was required.
---
Culinary Offerings
There were a total of eight culinary locations in the Bird Gardens area as part of Mardi Gras 2023 that were available on event days beginning at noon. These included permanent locations like Springs Taproom and Xcursions which featured special Mardi Gras food & beverage options in addition to regular offerings along with temporary culinary booths set up along the pathways in the area.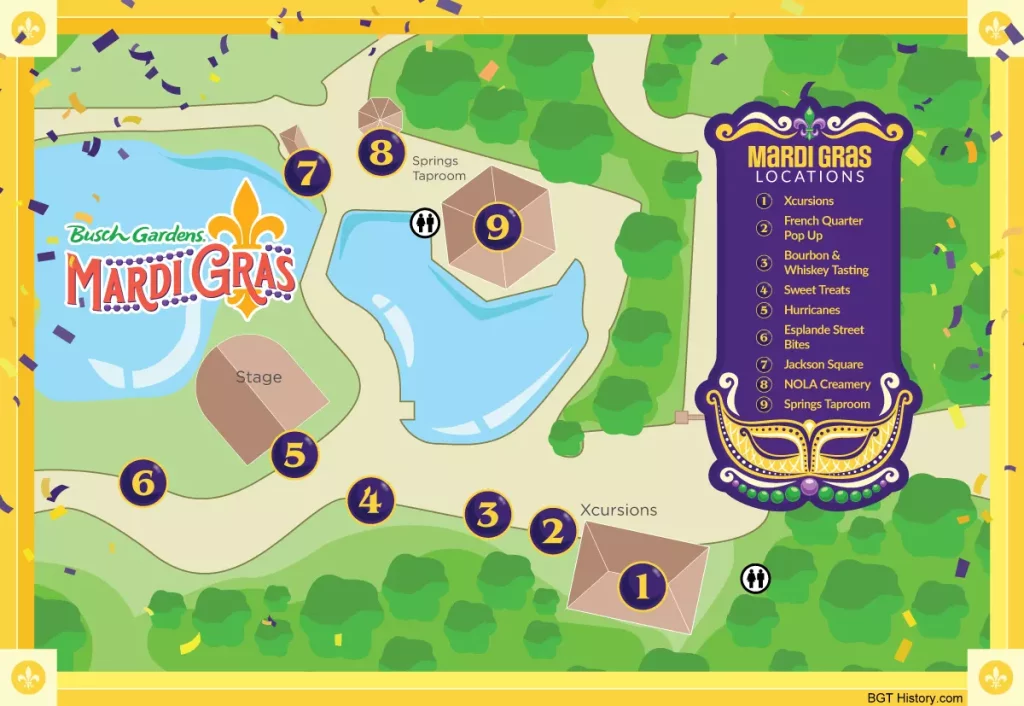 1) Xcursions
Mardi Gras Signature Cupcakes

"Brace Yourself" Hurricane Cupcake
Chocolate Flambeaux Cupcake
"Let the good times roll" Cupcake
One jumbo signature cupcake or a bundt cake per Food & Beverage Sampler punch
3) Bourbon & Whiskey Tasting
Available as single pours or as a tasting flight with all four options. One single pour per Food & Beverage Sampler punch.
4) Sweet Treats
5) Hurricanes
6) Esplanade Street Bites
7) Jackson Square
8) NOLA Creamery
9) Springs Taproom
---
History
With an update to the park's website in early November 2022, Mardi Gras 2023 was confirmed as returning on select dates from January 14 – March 5, 2023. The event page was later updated to confirm it would run on Fridays, Saturdays, and Sundays.
Additional details were released on January 10, 2023, including more information on the culinary and entertainment offerings. Following the first weekend of the event, a Mardi Gras VIP Tour was added to the upgrade options.
Additional details on Mardi Gras 2023 will be added in the future.
---
Sources
Busch Gardens Tampa Bay | Special Events – accessed 11/7/2022
Busch Gardens Tampa Bay | Mardi Gras – accessed 11/7/2022
Busch Gardens Tampa Bay | Mardi Gras – accessed 12/26/2022
Twitter – @BuschGardens | Jan 10 2023 – accessed 1/11/2023
Busch Gardens Tampa Bay | Mardi Gras – accessed 1/11/2023
Busch Gardens Tampa Bay | Mardi Gras Event Menu – accessed 1/11/2023
Busch Gardens Tampa Bay | Mardi Gras Upgrades – accessed 1/11/2023
Twitter – @BuschGardens | Jan 10 2023 – accessed 1/11/2023
Busch Gardens Tampa Bay | Mardi Gras Upgrades – accessed 1/21/2023
Last updated: January 21, 2023