Featuring two different themed events, Sesame Street Kids' Weekends returned in 2020 for more fun with the furry characters in a number of ways. The park celebrated Pirate Party Weekends early in the year, and a modified Halloween Kids' Weekends event in the fall.
Pirate Party Weekends took place in Sesame Street Safari of Fun on Saturdays and Sundays from February 1 through 16, 2020, from 11:30 a.m. to 4 p.m. each event day. Pirate Party weekends featured a dance party, themed story times, scavenger hunt, photo opportunities, and special crafts. Special pirate themed cupcakes were available for purchase from Snack-N-Geti during the event.
The first weekend of the event was also "Snuffy Weekend" where guests were able to meet Aloysius Snuffleupagus. The meet & greet with Snuffy took place at Gwazi Pavilion in Bird Gardens beginning at 11 a.m. on February 1 and 2, 2020.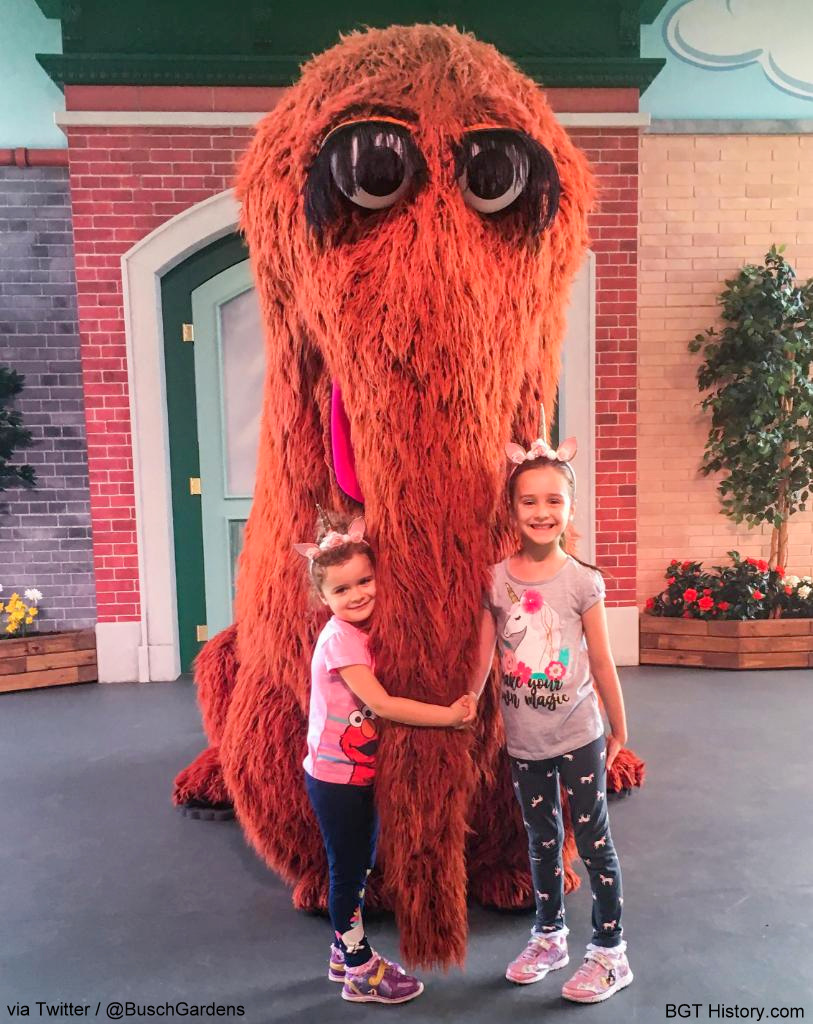 Originally announced early in the year, the fall Sesame Street Kids' Weekends were removed from the schedule when the park reopened in June. On September 22, 2020, the park announced the Halloween themed fall event would continue on the originally scheduled dates, every Saturday and Sunday from October 3 through November 1, 2020.
The modified event ran each weekend from noon to 3 p.m. and featured contact-free trick-or-treating, physically distant photo ops with Sesame Street characters dressed in Halloween costumes, Count's Not-Too-Spooky Howl-O-Ween Radio Show performances on the Sunny Day Theater stage, and special decor throughout Sesame Street Safari of Fun.
Guests who participated in trick-or-treating at the four stations under the pavilion in Sesame Street Safari of Fun were asked to purchase a new reusable bag as an added safety measure. On October 13, 2020, the park announced extended hours on Halloween from noon to 6 p.m. for trick-or-treating.
New for the event, guests could participate in Cookie Decorating with Cookie Monster in the Gwazi Pavilion. The cost was $14.99 per person for ages 3 and above. The 30-minute experience included a cookie decorating kit for each participant with either milk or a bottle of water, plus a physically distant visit from Cookie Monster.



---
Sources:
Twitter – @BuschGardens | Jan 17 2020 – accessed 1/19/2020
Twitter – @BuschGardens | Feb 1 2020 – accessed 2/4/2020
Twitter – @BuschGardens | Feb 3 2020 – accessed 2/5/2020
Twitter – @BuschGardens | Feb 5 2020 – accessed 2/5/2020
Twitter – @BuschGardens | Feb 8 2020 – accessed 2/8/2020
Twitter – @BuschGardens | Feb 11 2020 – accessed 2/11/2020
Twitter – @BuschGardens | Sep 22 2020 – accessed 9/22/2020
Twitter – @BuschGardens | Oct 13 2020 – accessed 10/13/2020
Busch Gardens Tampa Bay | Special Events – accessed 4/12/2020
Busch Gardens Tampa Bay | Special Events – accessed 6/6/2020
Busch Gardens Tampa Bay | Sesame Street Kids Weekends – accessed 10/27/2020
Attractions Magazine | Jan 16 2020 – accessed 6/21/2020
Last update: November 1, 2020