For its 24th season, Howl-O-Scream 2023 ran for 27 nights and featured five haunted houses, six scare zones, and several entertainment options.
Houses
D.H. Baggum's Circus of Fear (New)
Stranglewood Estate
The Forgotten: Uprising
The Residence: Home For The Holidays
Witch of the Woods
Scare Zones
Sin City Zombies (New)
Big Ed's Demolition Derby (New)
Raven's Mill
Beyond the Veil
The Junkyard
The Shortcut
Entertainment
Rock the Grave (New)
Cirque X-Scream
The Rolling Bones
Scare-E-Oke (New)
Map
Click for high-resolution version: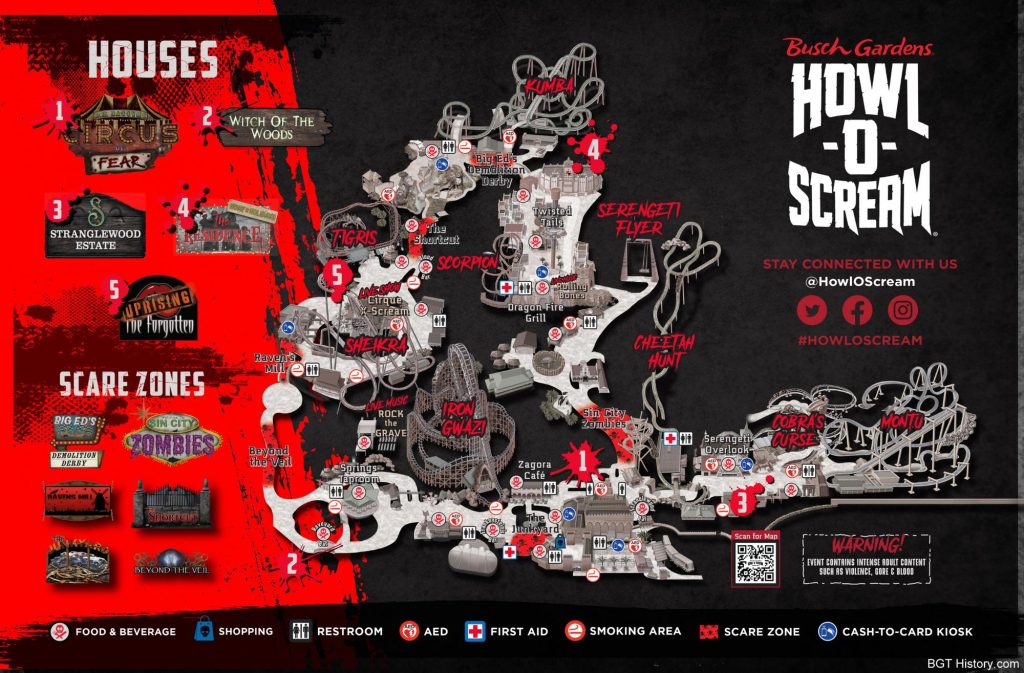 ---
Event Details
Howl-O-Scream 2023 ran for a total of 27 nights beginning on September 8. The event ran on Fridays & Saturdays in September and added Sundays & Thursdays to the weekend event starting October 1. The event ran for a total of six days on the final weekend, with Monday & Tuesday, October 30 & 31 added. Hours for the event were 7 p.m. to 1 a.m. on Fridays & Saturdays, and 7 p.m. to midnight on all other event nights.
A total of five haunted houses were featured at the event, with one of those being new for the 2023 season, and two others featuring updates from the past season. Brand new for the season was D.H. Baggum's Circus of Fear, which replaced Death Water Bayou. The new house invited guests to step right up and see the most terrifying show on earth.
Stranglewood Estate returned with new scares and effects. Once a cheerful home, the dilapidated mansion is now full of sinister spirits.
A battle has begun at The Forgotten: Uprising where people are fighting back against the vampires in an update to the house's theme. Scenes included struggles between the vampires and those trying to get rid of them.
Also returning for Howl-O-Scream 2023 was The Residence: Home For The Holidays. The mash-up showed what happens when Christmas and horror meet in what seems like a regular home. As the song says, you better watch out!
The final house in the lineup was the returning Witch of the Woods. Guests trekked into the forest encountering warnings to turn back, but going deeper and deeper revealed the witch's disciples and the sinister acts they committed in her honor.
Additional details and images on Howl-O-Scream 2023 will be added in the future.



---
Sources:
Howl-O-Scream | Busch Gardens Tampa Bay – accessed 9/2/2023
Haunted Houses & Thrill Rides | Busch Gardens Tampa Bay – accessed 9/16/2023
Last update: September 17, 2023