For its 19th season, Howl-O-Scream 2018 ran for a total of 19 nights and featured six haunted houses, two of which were new. The annual event also offered several scare zones, a show, and other Halloween themed fun.
Houses
Insomnia (New)
Simon's Slaughterhouse (New)
Death Water Bayou
Motel Hell
Unearthed
The Black Spot: Bloodshed
Scare Zones
Dia de los Muertos (Day of the Dead)
Maniac Midway
Camp D.O.A.
Deadly Toys
Meat Market
Hell on Wheels
Show
Map
Click for high-resolution version:
---
Event Details
Howl-O-Scream 2018 ran for a total of 19 nights beginning on September 21 and 22 for Freaky Preview Weekend. The following weekend also saw the event run on Friday and Saturday evening, followed by Friday through Sunday for the third weekend. The remaining three weekends in October saw the event turn Thursday through Sunday. Hours for the event each night were 7:30 p.m. to 1 a.m.
The event was projected to host around 100,000 guests during its run and took a team of about  900 actors, producers, technicians, chefs, and mixologists to put together.
A total of six haunted houses were featured at the event, with two of those being new for the 2018 season. One of the two new houses, Simon's Slaughterhouse was part of the recommended 17+ only area of the event.
The other new house for Howl-O-Scream 2018 was Insomnia, located near the front of the park in the building across from Serengeti Overlook. The idea started some 18 months before the event, and like many new houses at the event, it took roughly a year from initial design to the final rehearsals for it to come to fruition. Set up to look like a sleep institute, familiar hospital sights like the waiting and treatment rooms gave way to nightmarish scenes of counting sheep and monsters under the bed terrorizing sleepless patients.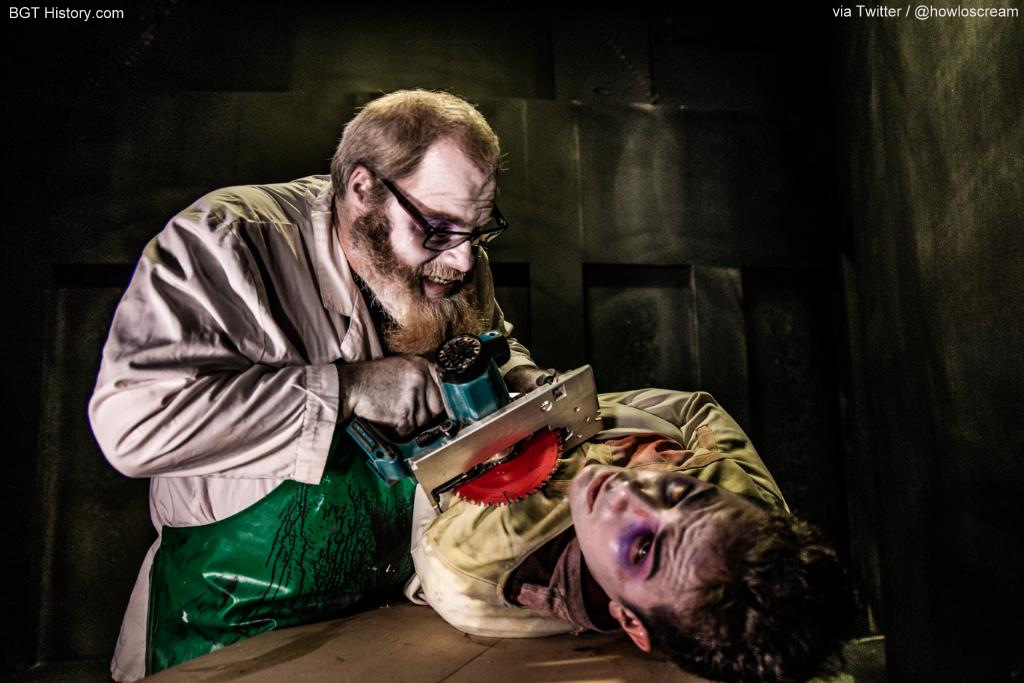 The four returning haunted houses were Death Water Bayou, Motel Hell, Unearthed, and The Black Spot: Bloodshed. Beyond the houses, there were also a total of six designated scare zones.
The Dia de los Muertos (Day of the Dead) zone was located around Moroccan Palace Theater. More creepy than scary, it included a parade honoring the dead and several photo ops.
Meat Market was part of the 17+ recommended area leading towards Simon's Slaughterhouse. The other scare zones around the park were Deadly Toys, Camp D.O.A., Maniac Midway, and Hell on Wheels.
Scare actors weren't limited just to the designated zones. In fact, they could be found just about anywhere inside and outside the park, including on the tram from the parking lot and around the ticket booths. Most major attractions were open during the event and guests might have encountered a scare actor riding along with them on some of the park's roller coasters. At the bumper cars, guests were very likely to have to face a few clowns or zombies.
Beyond the haunted houses, scare zones, and attractions, guests could also catch the returning Fiends in Stanleyville Theater. The only show at Howl-O-Scream 2018, a preview version of Fiends was also performed during Fright Feast exclusively for those guests.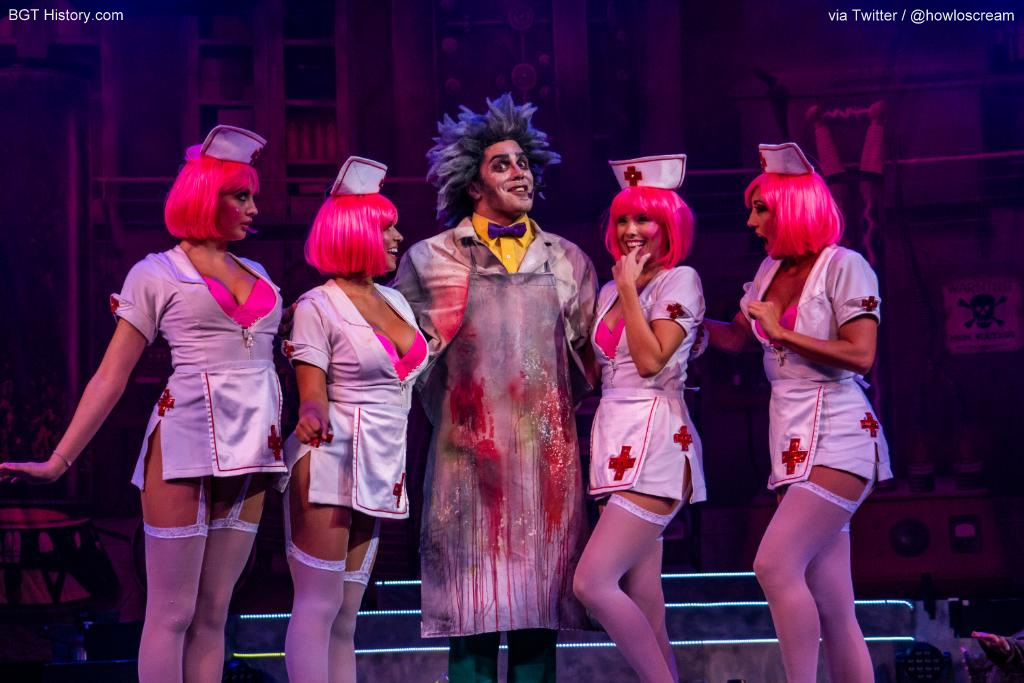 The Shop of Horrors returned near the front of the park in early September, allowing guests a chance to purchase Howl-O-Scream and Halloween-themed souvenirs including apparel and decor.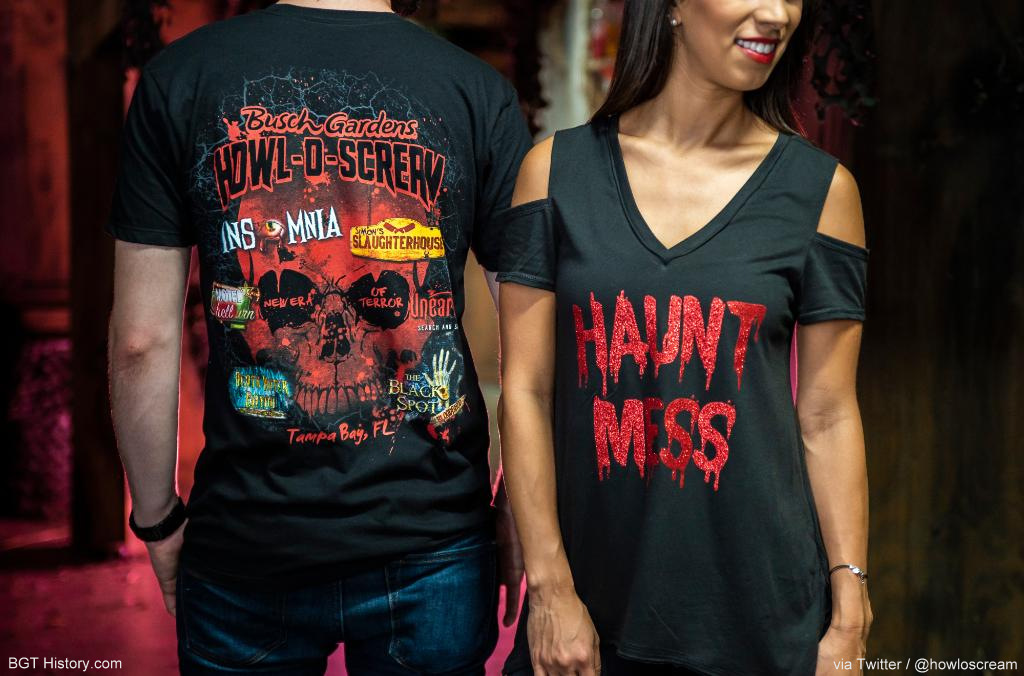 A variety of ticket options and packages were available for Howl-O-Scream 2018, including a handful of different promotions. College students with a valid school ID could get into Howl-O-Scream 2018 on any Thursday, Friday, or Sunday night for $34.99 with an offer available only at the park's ticket windows.
Other deals included a promotion through Taco Bell where customers could get a code allowing two visits to Howl-O-Scream 2018 for $59.99.
---
History
On May 23, 2018, the park did a Facebook Live video announcing the event would run 19 select nights and inviting viewers to guess which house they were standing in which would not be returning that season. On June 4, the park confirmed the house in the video was Zombie Containment Unit, and it would not be coming back for Howl-O-Scream 2018.
A teaser video was released through the event's social media accounts on June 25, featuring a darkened red skull with a soundtrack of screams.
Two days later on June 27, a Sinister Sale started on Howl-O-Scream's website. Single-night tickets, valid for any night of the event went on sale for $24.99. Annual pass members and groups of 15 or more could get the single night tickets for $19.99. The limited-time sale was scheduled to end on July 8. In addition to the single-night tickets, an Unlimited Scream Ticket granting admission for all 19 nights was available for $99.99. An All Howl-O-Scream Front Line Fear Extreme pass was also available for $99.99, which allowed the guest front-of-the-line access to all haunted houses and major thrill rides each night.
The calendar with specific dates for the event was also posted. In the FAQ section of the website, it was also confirmed Florida Platinum Pass Members received free admission on the first weekend of Howl-O-Scream 2018.
On July 6, Howl-O-Scream hosted another Facebook Live video, this time from inside Death Water Bayou, and confirmed its return for the 2018 season.
After the initial Sinister Sale ended, a new Summer Deal started on July 9, with ticket prices five dollars higher. Single night tickets valid for any event night were available for $29.99, with annual pass members, Fun Card holders, and groups of 15 or more able to get tickets for $24.99 each. The Unlimited Scream Ticket remained at $99.99, but the Front Line Fear Extreme pass for the entire event went up to $149.99. The Summer Deal ended on August 7.
Another Facebook Live video was hosted by Howl-O-Scream on July 20 where it was announced Motel Hell would be returning. Six days later on July 26, the park posted that Unearthed would also be returning.
While not immediately announced by the park through any of its social media accounts, fans noticed on August 1, 2018, that The Black Spot was listed on the Howl-O-Scream as the fourth house to be in the lineup.
Insomnia, the first new house for Howl-O-Scream 2018, was announced on August 6.
Many of the remaining details for the event were released on August 9, 2018, including upgrade options. Part of the announcement from that point was the introduction of a mature audience only zone, suggested only for guests ages 17 and above. That area included the Meat Market scare zone and Simon's Slaughterhouse. A total of six houses and five scare zones were also confirmed, and Fiends would be the only show for Howl-O-Scream 2018, with an exclusive preview for guests partaking in Fright Feast.
On October 19 & 20, the artist behind Furrybones, Misaki Sawada, met guests at the Shop of Horrors. Sawada was available to meet & sign autographs between 2:45 p.m. and 12:30 a.m. on both nights.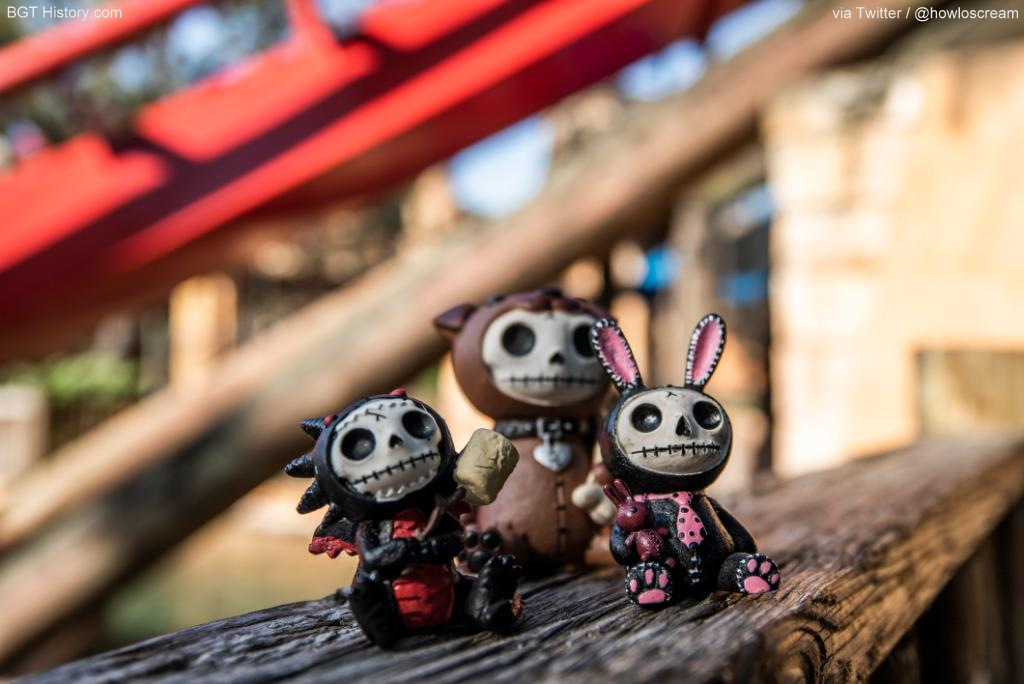 On the last weekend of the event, Howl-O-Scream guests were able to enjoy a happy hour in Pantopia from 5 to 8 p.m., each evening, with 50% off drinks at Carni Bar and buy one, get one free games.



---
Images & Videos
A selection of images showcasing the scare zones & scare actors in them:
Additional images from across Howl-O-Scream 2018:
A promotional Howl-O-Scream 2018 magnet: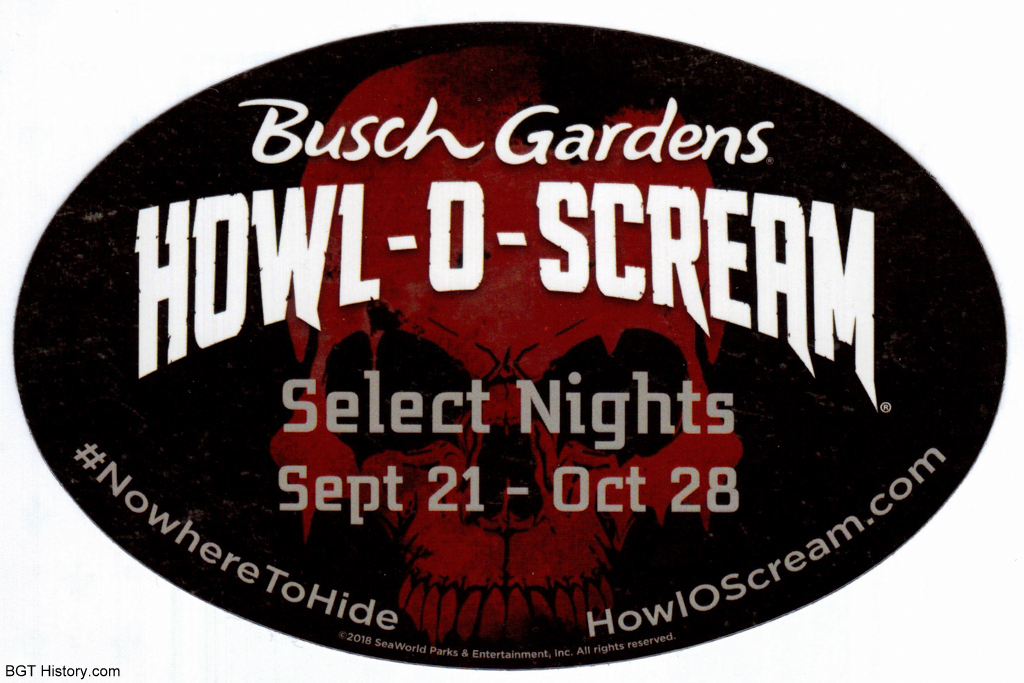 An advertisement for Howl-O-Scream 2018 from AAA Living Magazine from the September/October issue.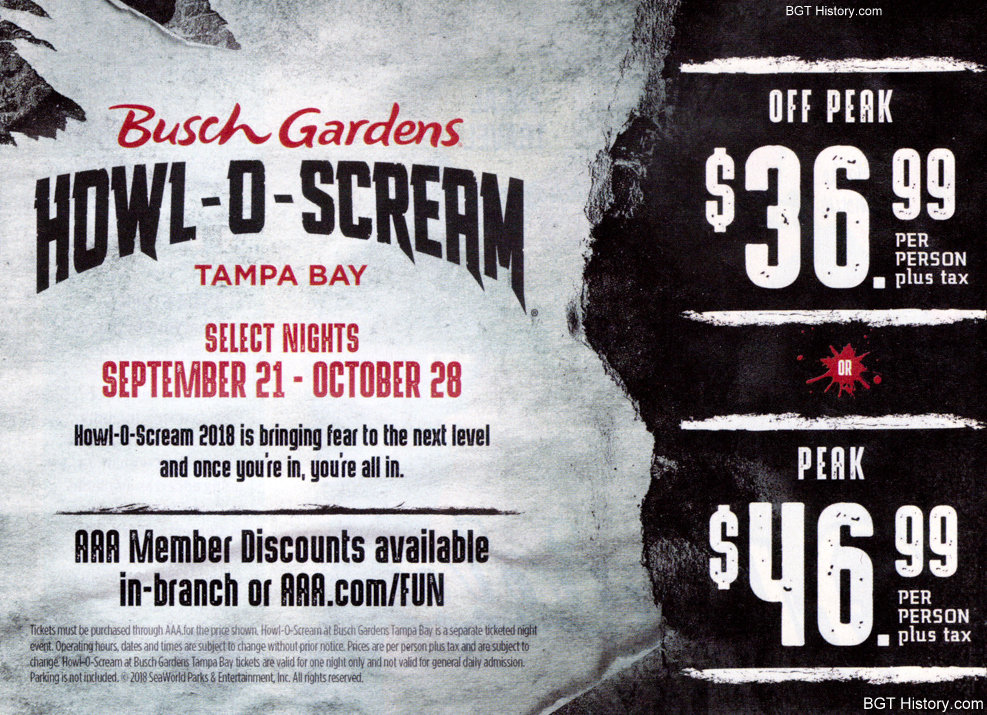 The Howl-O-Scream 2018 30-second television commercial:
A video released showing some of the many scare actors from previous seasons while recruiting for Howl-O-Scream 2018:
In celebration of National Roller Coaster Day, a short clip showing a scare actor on Cheetah Hunt was released:
During the filming for a Howl-O-Scream commercial, it turned out the most graphic part wasn't from the scare actor in the scene, but instead came from one of the actors posing as a guest on SheiKra. The park released the raw footage warning those who are squeamish to proceed with caution:



An early promotional video for Simon's Slaughterhouse for social media usage:
Leading up to the opening night of Howl-O-Scream 2018 on September 21, teaser videos were released on the event's social media accounts counting down the last three days and the last 12 hours:
Several members of the Tampa Bay Lightning visited Howl-O-Scream 2018, including walkthroughs of Insomnia and Simon's Slaughterhouse:
The USF Sun Dolls were also filmed as they made their way through Insomnia:
As part of a promotional tie-in with Taco Bell, the park released a video called the "Taco Challenge" where one "brave soul" carried a taco through Insomnia:
The park also shared a similar video called the "Singing Challenge" where Ricky, a singer in Push Play! at Dragon Fire Grill, had to try to sing his way through Insomnia:
With a little help from park ambassadors, a proposal was made outside of Death Water Bayou during the event. Jon asked Amber to marry him:
Additional details and images on Howl-O-Scream 2018 will be added in the future.



---
Sources:
Facebook – Howl-O-Scream | May 23 2018 – accessed 7/7/2018
Twitter – @howloscream | Jun 4 2018 – accessed 7/7/2018
Twitter – @howloscream | Jun 27 2018 – accessed 7/7/2018
Twitter – @androckb | Jul 6 2018 – accessed 7/7/2018
Howl-O-Scream | Busch Gardens Tampa Bay – accessed 6/27/2018
Howl-O-Scream Summer Deal – accessed 7/7/2018
Howl-O-Scream Summer Deal – accessed 8/4/2018
Facebook – Howl-O-Scream | Jun 20 2018 – accessed 8/4/2018
Twitter – @howloscream | Jul 26 2018 – accessed 8/4/2018
Twitter – @Rwshepherd13 | Aug 1 2018 – accessed 8/4/2018
Twitter – @howloscream | Oct 23 2018 – accessed 10/23/2018
Twitter – @BuschGardens | Oct 18 2018 – accessed 8/1/2019
Twitter – @BuschGardens | Oct 22 2018 – accessed 8/1/2019
Twitter – @howloscream | Jun 25 2018 – accessed 6/25/2020
Twitter – @howloscream | Jul 9 2018 – accessed 6/25/2020
Twitter – @howloscream | Jul 11 2018 – accessed 6/25/2020
Twitter – @howloscream | Jul 30 2018 – accessed 6/25/2020
Twitter – @howloscream | Aug 6 2018 – accessed 6/25/2020
Twitter – @howloscream | Aug 9 2018 & 2, 3, 4 – accessed 7/3/2020
Twitter – @howloscream | Aug 10 2018 – accessed 7/4/2020
Twitter – @howloscream | Aug 16 2018 – accessed 7/4/2020
Twitter – @howloscream | Aug 27 2018 – accessed 7/4/2020
Twitter – @howloscream | Sep 6 2018 – accessed 7/4/2020
Twitter – @howloscream | Sep 7 2018 – accessed 7/4/2020
Twitter – @howloscream | Sep 13 2018 – accessed 7/5/2020
Twitter – @howloscream | Sep 18 2018 – accessed 7/5/2020
Twitter – @howloscream | Sep 19 2018 – accessed 7/5/2020
Twitter – @howloscream | Sep 20 2018 – accessed 7/5/2020
Twitter – @howloscream | Sep 21 2018 – accessed 7/5/2020
Twitter – @howloscream | Sep 26 2018 – accessed 7/5/2020
Twitter – @howloscream | Sep 30 2018 – accessed 7/5/2020
Twitter – @howloscream | Oct 4 2018 – accessed 7/5/2020
Twitter – @howloscream | Oct 5 2018 – accessed 7/5/2020
Twitter – @howloscream | Oct 12 2018 – accessed 7/5/2020
Twitter – @howloscream | Oct 20 2018 – accessed 7/5/2020
Twitter – @howloscream | Oct 23 2018 – accessed 7/5/2020
Twitter – @TBLightning | Oct 24 2018 – accessed 7/6/2020
Twitter – @howloscream | Oct 25 2018 – accessed 7/6/2020
Twitter – @howloscream | Oct 27 2018 – accessed 7/6/2020
Tampa Bay Times | Sep 20 2018 – accessed 9/20/2018
Last update: February 6, 2021