Howl-O-Scream returned for its 18th season in 2017, running 19 nights from September 22 through October 29. The event featured seven haunted houses, two of which were new for the season. Three new scare zones joined two returning, along with roaming groups of scare actors throughout the park. The popular show Fiends also returned, and a new stage show, Inside Your Mind, featured performances by mentalist Joshua Seth.
Houses
Demented Dimensions (New)
Undead Arena: Live (New)
The Black Spot
Motel Hell
Unearthed
Zombie Containment Unit 15: Moving Targets
Death Water Bayou
Scare Zones
Class Deceased (New)
Carnie Camp (New)
Meat Market (New)
Wasteland
Playground
Shows
Map
Click for high-resolution version:
---
Event Details
Howl-O-Scream 2017 ran for a total of 19 nights beginning with Freaky Preview Weekend on September 22 & 23. It ran again the following Friday and Saturday, then added Sunday for the third weekend. Beginning October 12, the event continued each Thursday through Sunday, ending on October 29. The event ran from 7:30 p.m. to 1 a.m. each evening.
Unlike years past, there was no overarching theme for Howl-O-Scream 2017, but the tagline Nowhere to Hide was used heavily in advertising (including the use of #NowhereToHide on social media). A second tagline – Enjoy it While You Last – was also used in advertisements.
A total of seven haunted houses were part of Howl-O-Scream 2017. Those included two new houses – Demented Dimensions, which replaced Zombie Mortuary in the Pantopia section of the park, and Undead Arena: Live, replacing Circus of Superstition on Gwazi Field. The other five houses all returned from the previous season in their same location: The Black Spot, Motel Hell, Death Water Bayou, Zombie Containment Unit 15: Moving Targets, and Unearthed.
Scare zones officially returned for the first time in several seasons following the use of "beware zones" at Howl-O-Scream 2016. A total of five zones were scattered around the park: Class Deceased, Carnie Camp, and Meat Market were all brand new, with Wasteland and Playground returning from the previous season. In addition to the static zones, additional groups of roaming scare actors could be found throughout the park and even riding along on select attractions with guests.
Fiends returned for another season but moved back to Stanleyville Theater for Howl-O-Scream 2017. In its place at Dragon Fire Grill was a show featuring mentalist Joshua Seth called Inside Your Mind.
Guests were once again able to purchase a variety of Howl-O-Scream and Halloween inspired apparel, souvenirs, and decor from the Shop of Horrors beginning in mid-September.
Culinary creations were featured more prominently at Howl-O-Scream 2017, including the introduction of a sampler lanyard which allowed guests to pre-purchase a set number of items for one price. The lanyard could then be used at the special booths set up around the event with a variety of special food & beverage items, including grasshopper tacos. A five-item lanyard was $29.99, and a 10-item lanyard was $49.99. Pass member discounts of 10% applied.
The full gate-price for Howl-O-Scream 2017 was $104.99, but advanced ticket sales were available for as low as $29.99 for the general public as part of the Summer Deal, with pass members receiving an additional $5 discount. Platinum annual pass members received free entry on Freaky Preview Weekend.
A variety of "Evil Upgrades" were also available to choose from. These included two versions of Front Line Fear and three levels of VIP Packages. The regular Front Line Fear options allowed the guest front of the line access to six haunted houses (Zombie Containment Unit 15 not included). Front Line Fear Extreme also added front-of-the-line access to most of the major rides, including Cobra's Curse and Falcon's Fury. Pricing varied depending on the date, starting at $35 for Front Line Fear and $45 for Front Line Fear Extreme.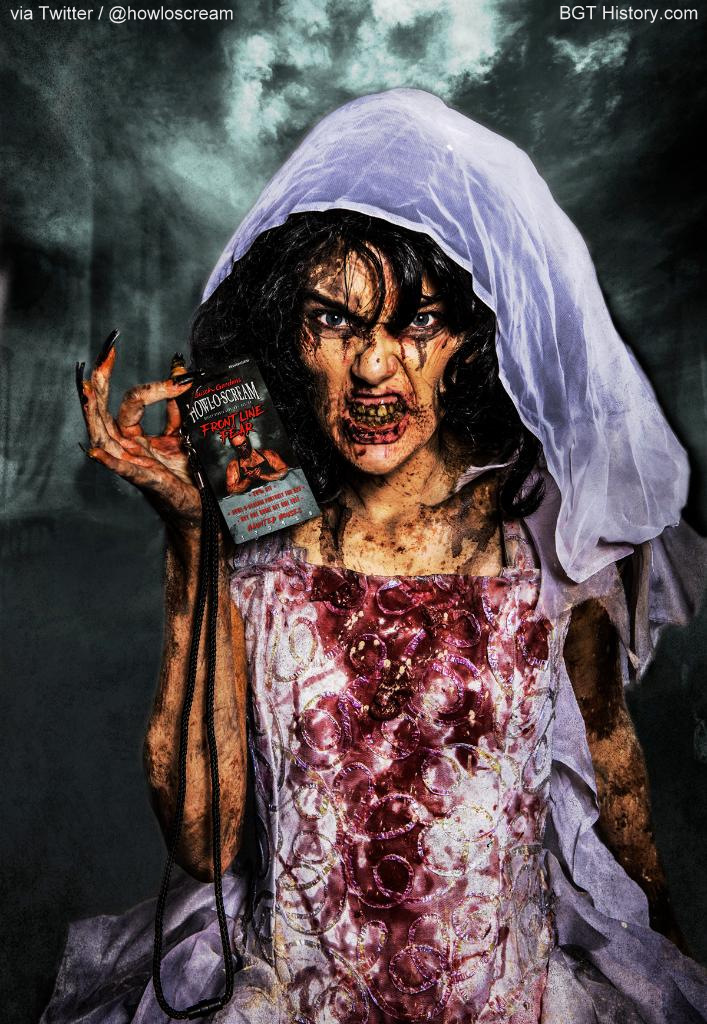 The VIP Packages were offered at three different levels – Super, Mega, or Ultimate. Each package offered the following: admission for the night at Howl-O-Scream; a tour of the park with a "Howl-O-Scream Insider" ambassador; front of the line access to six houses (Zombie Containment Unit 15 not included); exclusive check-in bar and private beverage stations in park with complimentary beer, soda, and water; a complimentary photo; and special gift shop & photo discounts. The Mega option also included front of the line access to most attractions and preferred parking. The top tier Ultimate package included everything already mentioned, plus early access to select houses and priority access to Zombie Containment Unit 15. Pricing for the VIP Packages was date dependent, starting at $79 for Super, $119 for Mega, and $229 for Ultimate.
Additional promotions included a discount code available for rides to the event through Lyft.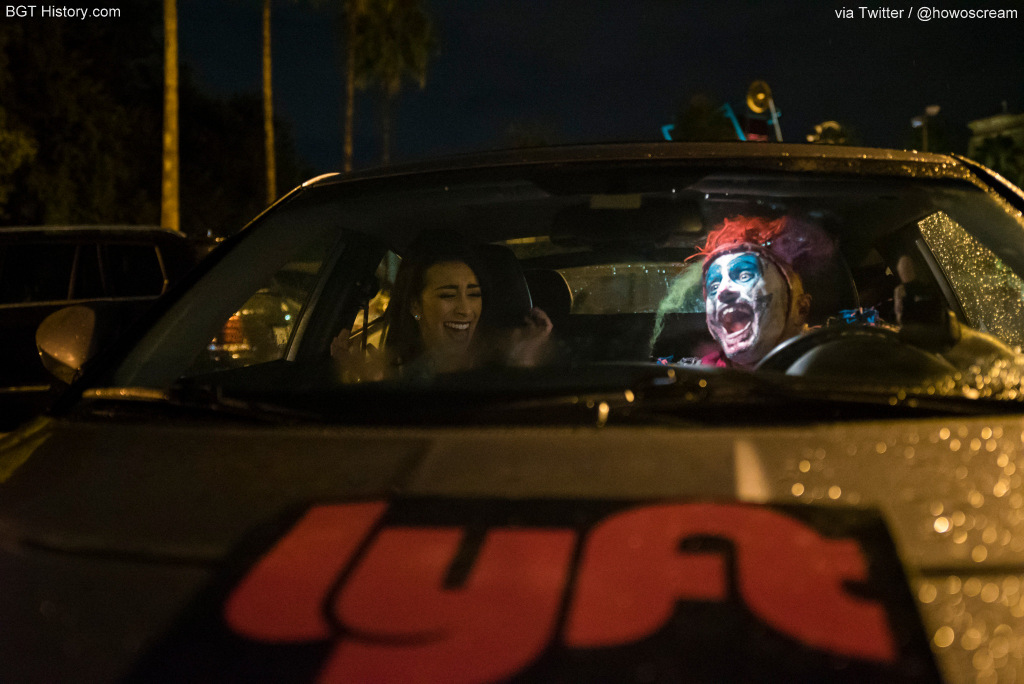 ---
History
Howl-O-Scream returned "from the dead" on June 28, 2017, announcing a Summer Ticket Deal for single-night tickets at $29.99 each. The sale ran through August 16.
More specific details about Howl-O-Scream started to be released just after the 4th of July, including the full calendar. On July 7, Motel Hell was announced as the first returning house of the season's lineup.
After being teased on the Howl-O-Scream social media accounts on July 12, Unearthed was announced as the second returning house on July 13, 2017.
July 20, 2017, was the next house announcement, with Death Water Bayou returning for another season.
On the evening of July 20, filming for the Howl-O-Scream 2017 commercial took place at the park. The park shared several behind-the-scenes images and videos through their social media accounts, including a look inside some of the houses and a short discussion with director Dean Karr. That was one of several behind-the-scenes looks at the event marketed through social media posts.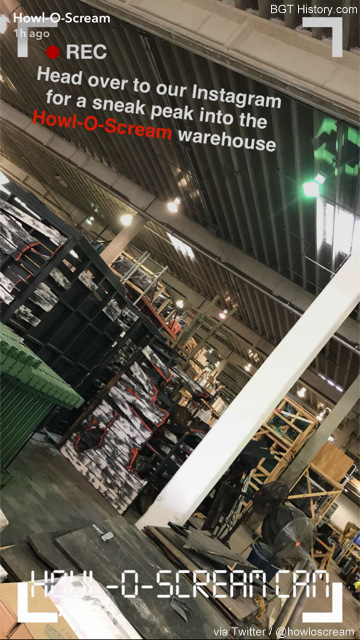 At Tampa Comic Con in late July 2017, Howl-O-Scream had a booth that included on the spot auditions for those interested in becoming scare actors. Some 700 scare actor positions were available.



The next house announcement came on August 10, 2017, with Zombie Containment Unit 15: Moving Targets returning to the lineup.
On August 16, the park revealed the next house's name in a series of 15 separate posts on its Twitter account, using the hashtags #NowhereToHide and #twiddle. Each tweet contained one line of a short story, and in each line, just one letter was capitalized, spelling out the new house's name while detailing its theme:
once Upon a time
iN a post-apocalyptic world
Death came for a great many
thosE that survived were divided into the worthy and the unworthy
a gAunlet was created for the fun of the worthy
one infesteD with brain eaters
an Almost impossible feat for the unworthy
will you have what it takes to suRvive?
the worthy think othErwise…
want to kNow where this great event takes place?
it's A secret…
maybe more of a riddLe…
whIch house could this be?
the answer is Very close
discovEr the name of our newest house in our last tweets
Undead Arena: Live joined the lineup as a new house for Howl-O-Scream 2017. Following the riddle posts, the park gave the first person to respond correctly with the full name of the house a special prize pack.
The day following the end of the Summer Deal, on August 17, 2017, all event upgrades became available for purchase, including Fright Feast, Front Line Fear, and VIP Tours. A teaser video accompanied the announcement.
Most of the remaining details for Howl-O-Scream 2017 were also part of the release and update to the event's website on August 17. The five scare zones were announced, though the name of the schoolhouse inspired zone would be voted on by fans in the weeks following. The update also confirmed Fiends would be moving back to Stanleyville Theater, with a yet unannounced show coming to the stage at Dragon Fire Grill.
Only one remaining house was left to be announced following the big release of details, and The Black Spot was revealed as the last on August 30.
On August 31, it was announced that Class Deceased was the winning name chosen by fans for the schoolhouse themed scare.
---
Images & Videos
An assortment of images used on the event's Twitter account during 2017:
A 30 second commercial for Howl-O-Scream 2017:
As the end of the Summer Sale approached, the park released a video on August 14, 2017, highlighting the last hours of the deal and also reinforcing the theme of Nowhere to Hide – which included several attractions like Cobra's Curse where scare actors would occasionally ride along.
A video showing a horde of zombies on SheiKra was later released:



The park gave guests a chance to nominate someone who doesn't handle haunted houses very well the chance for an extra scare:
One of those chosen for the "Dare or Scare" challenge:
The last three days before Howl-O-Scream 2017 opened to the public, the park posted a short video daily to count down:
Tampa Bay Buccaneers team members Donovan Smith and Charles Sims checked out Howl-O-Scream 2017:
Members of the Tampa Bay Rowdies also got to experience the event:
Additional images and information on Howl-O-Scream 2017 will be added in the future.



---
Sources:
Touring Central Florida | Sep 15 2017 – accessed 10/1/2017
Touring Central Florida | Sep 28 2017 – accessed 10/1/2017
Park Map – Howl-O-Scream 2017 (Author's Collection)
Twitter – @howloscream | Jun 28 2017 – accessed 12/15/2020
Twitter – @howloscream | Jun 30 2017 – accessed 12/15/2020
Twitter – @howloscream | Jul 6 2017 – accessed 12/15/2020
Twitter – @howloscream | Jul 7 2017 – accessed 12/15/2020
Twitter – @howloscream | Jul 7 2017 (2) – accessed 12/15/2020
Twitter – @howloscream | Jul 12 2017 – accessed 12/15/2020
Twitter – @howloscream | Jul 13 2017 – accessed 12/15/2020
Twitter – @howloscream | Jul 20 2017 – accessed 12/15/2020
Twitter – @howloscream | Jul 31 2017 – accessed 12/15/2020
Twitter – @howloscream | Aug 10 2017 – accessed 12/15/2020
Twitter – @howloscream | Aug 14 2017 – accessed 12/15/2020
Twitter – @howloscream | Aug 16 2017 – accessed 12/15/2020
Twitter – @howloscream | Aug 16 2017 (2) – accessed 12/15/2020
Twitter – @howloscream | Aug 16 2017 (3) – accessed 12/15/2020
Twitter – @howloscream | Aug 16 2017 (4) – accessed 12/15/2020
Twitter – @howloscream | Aug 16 2017 (5) – accessed 12/15/2020
Twitter – @howloscream | Aug 16 2017 (6) – accessed 12/15/2020
Twitter – @howloscream | Aug 16 2017 (7) – accessed 12/15/2020
Twitter – @howloscream | Aug 16 2017 (8) – accessed 12/15/2020
Twitter – @howloscream | Aug 16 2017 (9) – accessed 12/15/2020
Twitter – @howloscream | Aug 16 2017 (10) – accessed 12/15/2020
Twitter – @howloscream | Aug 16 2017 (11) – accessed 12/15/2020
Twitter – @howloscream | Aug 16 2017 (12) – accessed 12/15/2020
Twitter – @howloscream | Aug 16 2017 (13) – accessed 12/16/2020
Twitter – @howloscream | Aug 16 2017 (14) – accessed 12/16/2020
Twitter – @howloscream | Aug 16 2017 (15) – accessed 12/16/2020
Twitter – @howloscream | Aug 16 2017 (16) – accessed 12/16/2020
Twitter – @howloscream | Aug 17 2017– accessed 12/16/2020
Twitter – @howloscream | Aug 17 2017 (2) – accessed 12/16/2020
Twitter – @howloscream | Aug 30 2017 – accessed 12/16/2020
Twitter – @howloscream | Aug 31 2017 – accessed 12/16/2020
Twitter – @howloscream | Sep 2 2017 – accessed 12/16/2020
Twitter – @howloscream | Sep 5 2017 – accessed 12/16/2020
Twitter – @howloscream | Sep 14 2017 – accessed 12/16/2020
Twitter – @howloscream | Sep 15 2017 – accessed 5/26/2020
Twitter – @howloscream | Sep 15 2017 (2) – accessed 12/16/2020
Twitter – @howloscream | Sep 16 2017 – accessed 6/5/2020
Twitter – @howloscream | Sep 18 2017 – accessed 6/7/2020
Twitter – @howloscream | Sep 19 2017 – accessed 6/7/2020
Twitter – @howloscream | Sep 19 2017 – accessed 6/7/2020
Twitter – @howloscream | Sep 20 2017 – accessed 6/7/2020
Twitter – @howloscream | Sep 21 2017 – accessed 6/7/2020
Twitter – @howloscream | Sep 29 2017 – accessed 6/7/2020
Twitter – @howloscream | Oct 4 2017 – accessed 6/14/2020
Twitter – @howloscream | Oct 5 2017 – accessed 12/16/2020
Twitter – @howloscream | Oct 8 2017 – accessed 12/16/2020
Twitter – @howloscream | Oct 16 2017 – accessed 12/16/2020
Twitter – @TampaBayRowdies | Oct 19 2017 – accessed 12/16/2020
Twitter – @howloscream | Jun 28 2018 – accessed 6/25/2020
Twitter – @androckb | Jul 20 2017 – accessed 12/17/2020
Twitter – @androckb | Jul 20 2017 (2) – accessed 12/17/2020
Twitter – @androckb | Jul 20 2017 (3) – accessed 12/17/2020
Twitter – @androckb | Jul 20 2017 (4) – accessed 12/17/2020
Twitter – @androckb | Jul 21 2017 – accessed 12/17/2020
Twitter – @androckb | Jul 22 2017 – accessed 12/17/2020
Twitter – @Tropitlikeithot | Jul 28 2017 – accessed 12/17/2020
Touring Central Florida | Aug 6 2017 – accessed 8/17/2017
Twitter – @androckb | Aug 17 2017 – accessed 12/19/2020
Twitter – @androckb | Aug 17 2017 (2) – accessed 12/19/2020
Twitter – @androckb | Aug 17 2017 (3) – accessed 12/19/2020
Twitter – @androckb | Aug 17 2017 (4) – accessed 12/19/2020
Last update: December 19, 2020