Howl-O-Scream 2015 featured seven haunted houses, roaming hordes of scare actors, a special show, and other evil surprises for its 16th season.
Houses
Unearthed: Scarlett's Revenge (New)
Dead Fall: Thirst for Blood
Zombie Containment Unit 15: Moving Targets
Death Water Bayou
The BASEMENT
Circus of Superstition 3D: The Last Laugh
Zombie Mortuary
Show
Map
Click image for high-resolution version.
---
Event Details
Howl-O-Scream 2015 ran for 19 nights, opening on Friday, September 25, and continuing the next evening for Freaky Preview Weekend. The event then took place on each Thursday through Saturday from October 1 through Halloween night, and also on two Sundays, October 18 & 25. Hours each event night were 7:30 p.m. to 1 a.m.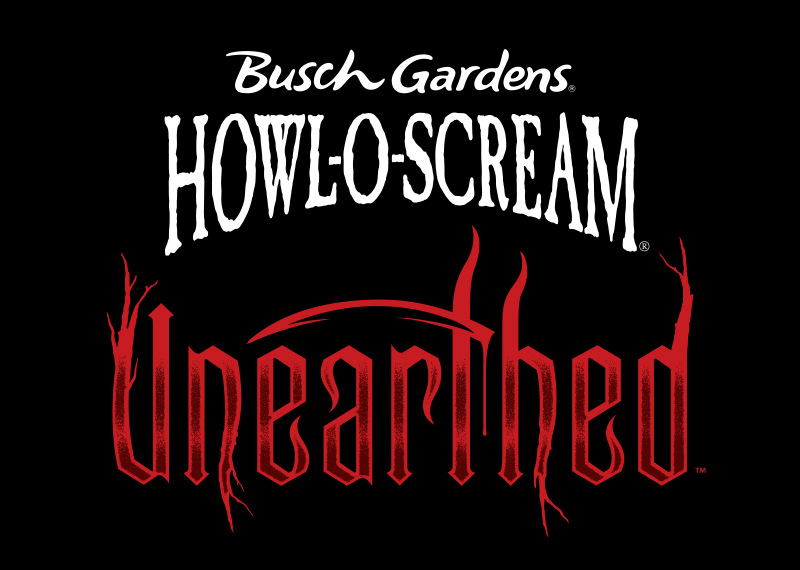 The theme for Howl-O-Scream 2015 was Unearthed, with #EvilUnearthed being used in social media campaigns for the event. Behind the development of the main theme and one of the houses was Robin Cowie, horror filmmaker and producer of "The Blair Witch Project." From an article describing the event from the park:
During maintenance at the park, an excavation crew uncovered a centuries-old house buried deep beneath the ground. Upon entering the house, a sinister force is Unearthed. The vengeful demon, Scarlett, summons the creatures of Howl-O-Scream's past and takes her revenge by collecting the eyes of all who enter the house.

"The Blair Witch Project" producer and legendary horror filmmaker, Robin Cowie, worked with his creative team for over a year forming the dark and twisted story of Unearthed. Cowie explained that the idea sparked from thinking "what is under a theme park?"

According to Cowie, Scarlett's story is actually a love story. She was a village healer who turned to dark magic to avenge her husband's killers, and as her powers grew, she was hunted, trapped and buried alive deep beneath the park. Now she is Unearthed and ready to summon death and destruction to anyone that comes in her way.

"One of the reasons why I jumped at this opportunity was because in film you're constantly thinking of what's inside the frame. And at Howl-O-Scream a story is built around you," says Cowie. "In the film world you build tension and scares linearly and here it's all about surprise and things coming out you from all around."
A total of seven haunted houses were featured at Howl-O-Scream 2015, with one new house joining six returning ones. The main theme was represented in the new house – Unearthed: Scarlett's Revenge. Scarlett would serve as the main icon for the event as well.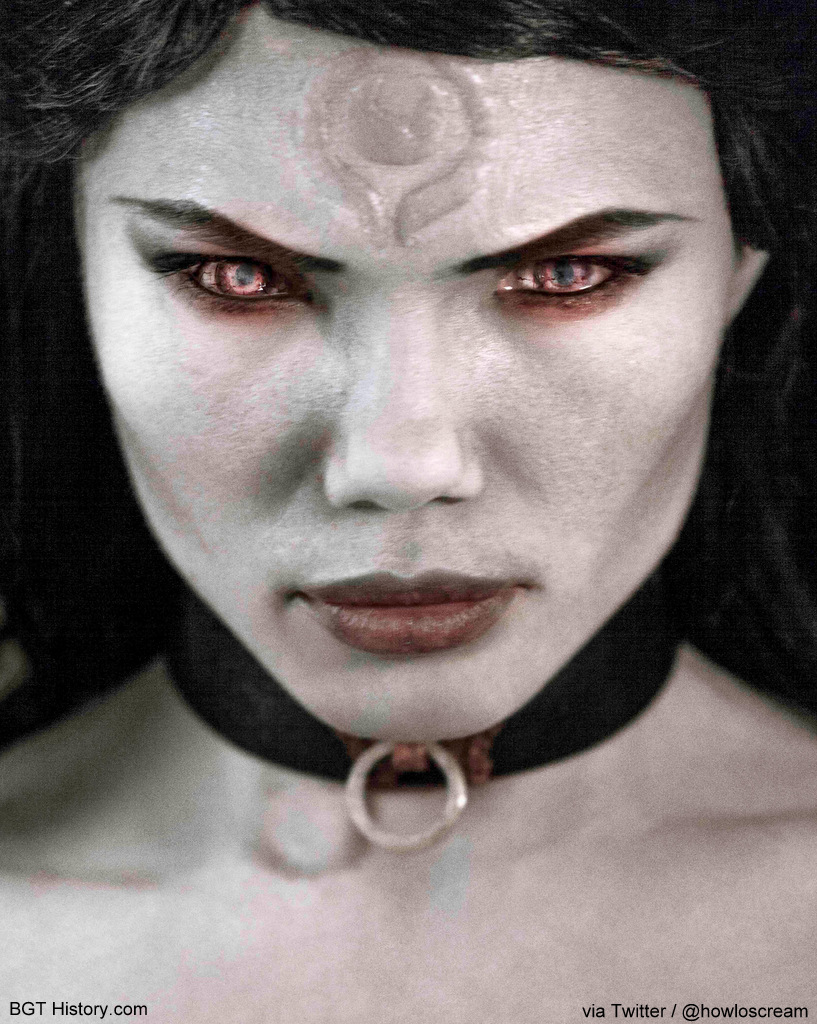 The other six houses all returned from the previous season, although most with at least some changes. The house line up for Howl-O-Scream 2015 was Dead Fall: Thirst for Blood; Zombie Containment Unit 15: Moving Targets; Death Water Bayou; The BASEMENT; Circus of Superstition 3D: The Last Laugh; Zombie Mortuary.
There were no designated scare zones at Howl-O-Scream 2015, with the park instead advertising hundreds of scare actors swarming the park. One show was presented, the perennial favorite Fiends. The 21 and over crowd could enjoy a drink and music at Club Unearthed, housed at Marrakesh Theater.
Beginning June 17, 2015, guests could purchase single night tickets for as low as $45 as part of a "Summer Deal" promotion. Pass members were able to purchase single night tickets for $35 as part of the same offer. The sale ran through August 11.
The event also offered 4-Pack Ticket Deals starting at $35 per person, plus tax. In October, pass members and Fun Card holders were able to bring a friend to the event for just $25. On the final three days of the Howl-O-Scream 2015, October 29 – 31, college students were able to purchase up to two tickets for $35 each online, with a school ID required when redeeming them at the park.
Vacation packages were available, including the Overnight Fright or Wild & Wicked Weekend. Packages included special perks like early access into Howl-O-Scream, unlimited admission to Busch Gardens during the day, and free parking.
Several upgrade options were available including VIP tours, Front Line Fear passes, and Fright Feast.
All three of the VIP tours included Howl-O-Scream admission, a commemorative photo, complimentary beverages, and merchandise discounts. Pricing started at $89 per person. The Super experience was a three-hour group tour of haunted houses that included front-of-the-line access except for Zombie Containment Unit: 15. The Mega experience was a five-hour experience that added preferred parking and front-of-the-line access to most of the thrill rides. The Ultimate experience included everything in the Super and Mega tours, plus a personal guide for a private tour, and front-of-the-line access to Zombie Containment Unit 15: Moving Targets.
A Front Line Fear pass granting front of the line access to six haunted houses (Zombie Containment Unit: 15 excluded) started at $49. The Front Line Fear Extreme pass also gave guests front-of-the-line access to thrill rides starting at $59. Both passes included merchandise discounts.
Fright Feast also returned, with guests getting a buffet dinner at Dragon Fire Grill, an exclusive performance of Fiends, up to 30 minutes of early access to haunted houses, and front of the line privileges until 8:30 p.m. Pricing was $26 per person, and group and pass member discounts were available. The buffet menu included:
Ghoulish Garden Greens
Creepy Caesar Salad
Monsters Fruit
Vermin's Vegetable Medley
RIP Rosemary Oven Baked Potatoes
Metamorphic Mac & Cheese
Chick Chick Chicken Nuggets
Freaky Fried Rice
Zombie Baked Fish
Screaming-Fire Braised Pulled Pork
Trembling Thai Pepper Steak
Dinner Rolls
Delectable Desserts
Soft Drinks, Iced Tea, Lemonade, Fruit Punch and Icees
---
History
Just before Christmas 2014, the park announced the range of dates for Howl-O-Scream 2015, set to run on select nights from September 25 through October 31, 2015. The first teaser for the new season came in early May 2015 on the event's social media accounts.
On June 17, 2015, the title of the main theme for Howl-O-Scream was announced: Unearthed. A press release also gave the first few details for the event, including the dates and times it would run, that there would be one show, and it would feature hundreds of roaming creatures. The first ticket deal for Howl-O-Scream 2015 was also released on that date.
One haunted house was announced each week for seven weeks, beginning with the returning Circus of Superstition: The Last Laugh 3D on June 30, 2015.
On July 7, The BASEMENT was announced as another returning house.
A week later on July 14, Zombie Mortuary joined the lineup as the third house, also returning from the previous season.
Guest favorite Death Water Bayou was announced for the event on July 21.
On July 28, Zombie Containment Unit: 15 was announced as returning for Howl-O-Scream 2015.
The final returning house was Dead Fall: Thirst for Blood, announced on August 4, 2015. Unearthed: Scarlett's Revenge was announced along with other event details on August 12.
Having announced all the houses for the event, the following week saw a different sort of release from the park, asking for guests' input on which former evil icon from past Howl-O-Scream events should be brought back for a photo op during the event. The choices in the Facebook poll were the Death Jockey from Howl-O-Scream 2007, the Raven Twins from Howl-O-Scream 2008, or Trickster from Howl-O-Scream 2012. In early September, the results were in with guests choosing to see the Raven Twins again.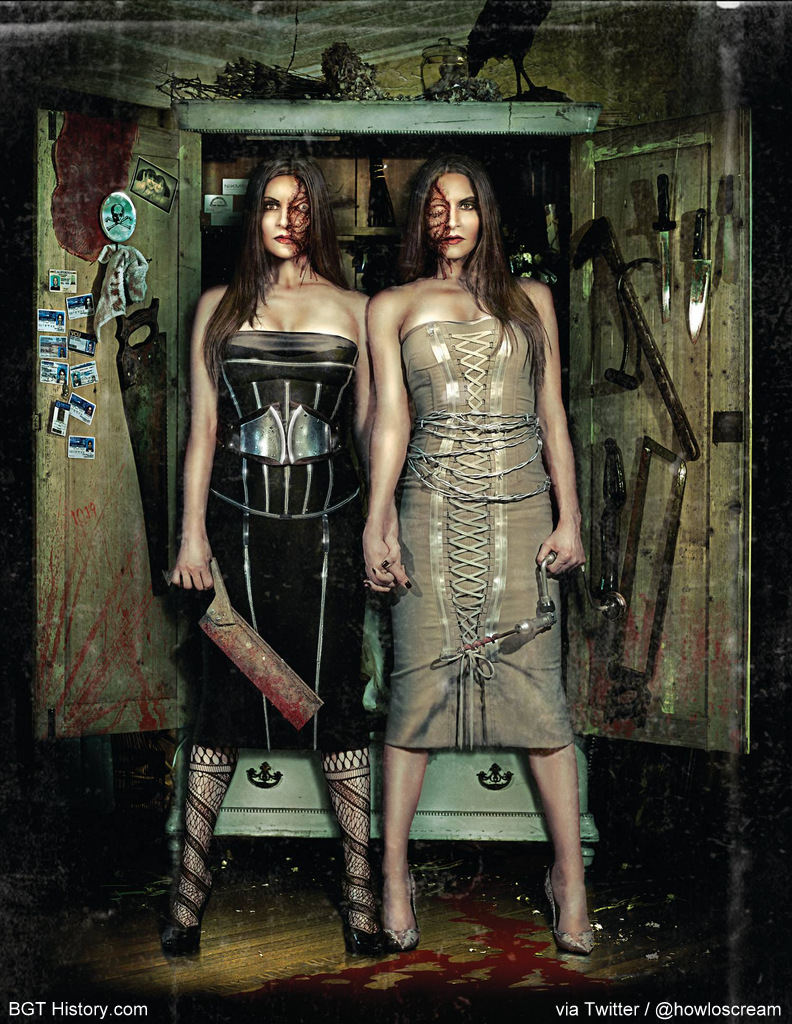 The Shop of Horrors opened for the season at Marrakesh Market on September 2, 2015.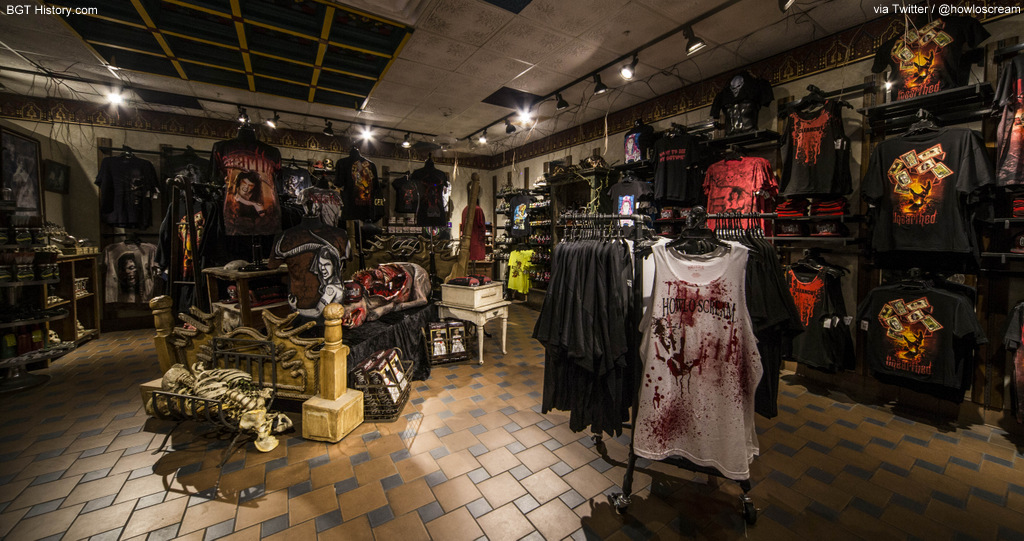 Along with the array of Howl-O-Scream and Halloween themed apparel, souvenirs, and decor, the Shop of Horrors also offered collector cards in a series called Darkheart's Games of Skills. In addition to the cards, the park offered an online exclusive Scarlett's VIP Scream Box with special extras.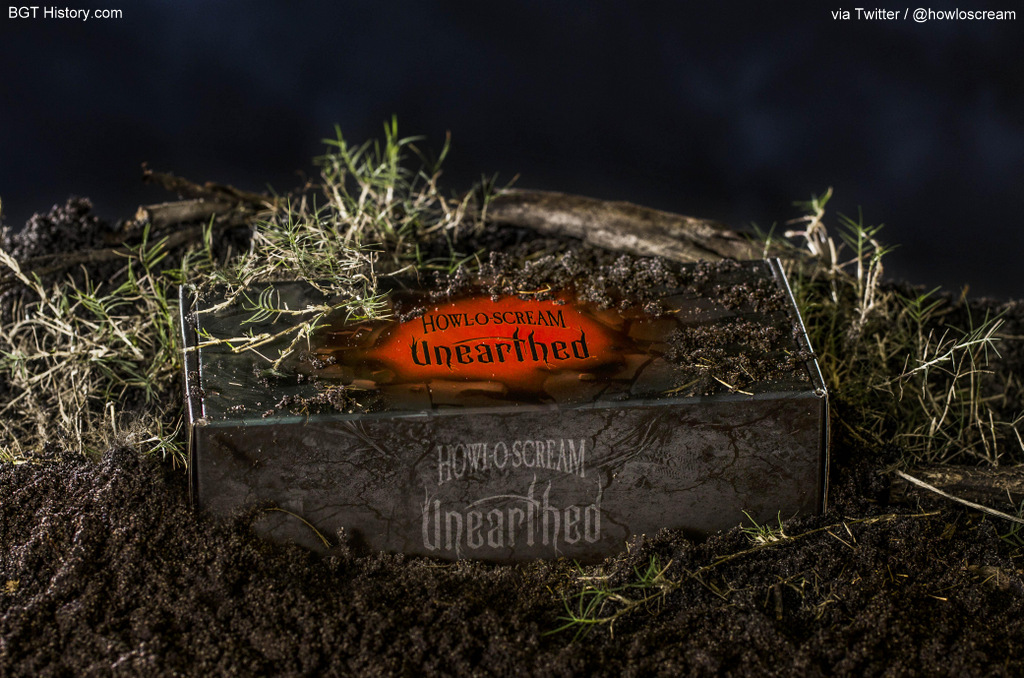 In an article in the Orlando Sentinel in early October, the comparison between Universal Orlando's Halloween Horror Nights and Howl-O-Scream was made, with each having its stronger and weaker points. In the end, the writer gave the win to Howl-O-Scream 2015, but noted the slight edge "was by the severed finger of a zombie."



---
Images & Videos
As has often been the case throughout the years, several members of local sports teams visited Howl-O-Scream. A couple of members of Tampa Bay Lightning visited one evening, and Tampa Bay Buccaneers Mike Evans visited on October 23.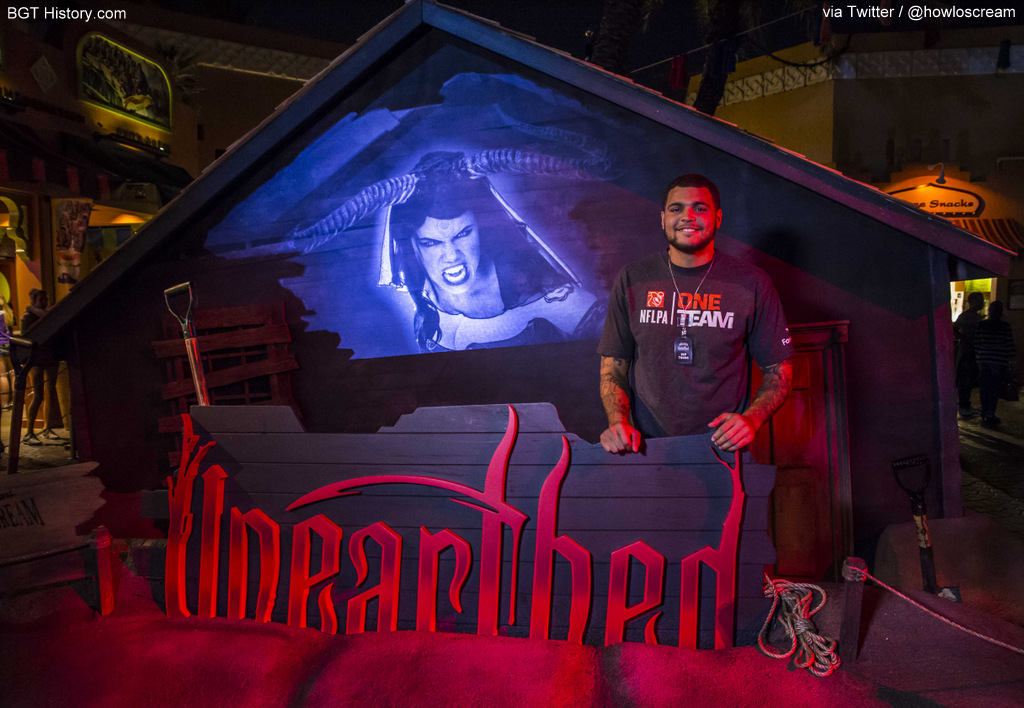 Some additional photos from the event:
Part of the marketing for Howl-O-Scream 2015 included a series of "field reports" that were released over the course of July and August. They gave fans a glimpse of what the new house, Unearthed: Scarlett's Revenge, would hold. The first of those field reports was released on July 16, 2015:
The second was shared on July 22:
The third installment in the series came on August 4:
The final field report was released on August 26, 2015:
A series of videos looking "Behind the Scares" was also released during September 2015, with a look at details surrounding the theme, new house, and more. The first was shared on September 9:
The second video in the series was released on September 16 and focused on costumes and make-up:
The third installment came on September 23:
The last video in the Behind the Scares series was released on September 30, 2015:
Towards the end of the event, a time-lapse video showing what it takes to turn a scare actor into a zombie was shared:
Some "scream cam" footage showing invited media guests was shared in a tongue-in-cheek video:
---
Sources:
Event Upgrades | Howl-O-Scream Busch Gardens Tampa – accessed 9/24/2015
Behind the Scares | Howl-O-Scream Busch Gardens Tampa – accessed 10/26/2015
Busch Gardens Tampa | Jun 17 2015 – accessed 1/4/2018
Busch Gardens Tampa | Jul 29 2015 – accessed 1/4/2018
Busch Gardens Tampa | Aug 12 2015 – accessed 1/4/2018
Busch Gardens Tampa | Aug 20 2015 – accessed 1/4/2018
Thrillgeek | Sep 5 2015 – accessed 1/5/2018
Busch Gardens Tampa | Sep 14 2015 – accessed 1/6/2018
Busch Gardens Tampa | Sep 11 2015 – accessed 7/23/2018
Busch Gardens Tampa | Oct 1 2015 – accessed 7/25/2018
Twitter – @BuschGardens | Sep 2 2015 – accessed 6/27/2019
Twitter – @BuschGardens | Oct 7 2015 – accessed 6/27/2019
Busch Gardens Tampa | Howl-O-Scream Tickets – accessed 6/27/2019
Twitter – @howloscream | Dec 20 2014 – accessed 3/24/2020
Twitter – @howloscram | May 9 2015 – accessed 3/24/2020
Twitter – @howloscream | Jun 30 2015 – accessed 3/24/2020
Twitter – @howloscream | Jul 7 2015 – accessed 3/24/2020
Twitter – @howloscream | Jul 14 2015 – accessed 3/24/2020
Twitter – @howloscream | Jul 21 2015 – accessed 3/25/2020
Twitter – @howloscream | Jul 28 2015 – accessed 3/25/2020
Twitter – @howloscream | Aug 4 2015 – accessed 3/25/2020
Twitter – @howloscream | Aug 8 2015 – accessed 3/25/2020
Twitter – @howloscream | Aug 12 2015 – accessed 3/25/2020
Twitter – @howloscream | Sep 2 2015 – accessed 3/26/2020
Twitter – @howloscream | Sep 3 2015 – accessed 3/26/2020
Twitter – @howloscream | Sep 4 2015 – accessed 3/26/2020
Twitter – @howloscream | Sep 18 2015 – accessed 3/26/2020
Twitter – @howloscream | Sep 21 2015 – accessed 3/26/2020
Orlando Sentinel | Oct 8 2015 – accessed 3/26/2020
Twitter – @howloscream | Oct 12 2015 – accessed 3/26/2020
Twitter – @howloscream | Oct 14 2015 – accessed 3/26/2020
Twitter – @TBLightning | Oct 19 2015 – accessed 3/26/2020
Twitter – @howloscream | Oct 24 2015 – accessed 3/26/2020
Last update: June 21, 2020