The 13th year of Florida's top-rated Halloween event saw the return of the main theme The Dark Side of the Gardens. Trickster was Howl-O-Scream 2012's icon. There were a total of seven haunted houses, with two of those being new for the season. The popular Fiends show returned, and two new entertainment offerings joined the lineup.
Houses
Blood Asylum (New)
Circus of Superstition 3-D (New)
Ultimate Gamble: Condemned
Nightshade Toy Factory: Mutation
Nevermore
Zombie Mortuary
Alone
Scare Zones
Shows
Slip of the Tongue: A Demonstration of Dark Magic (New)
The Awakening (New)
Fiends
Map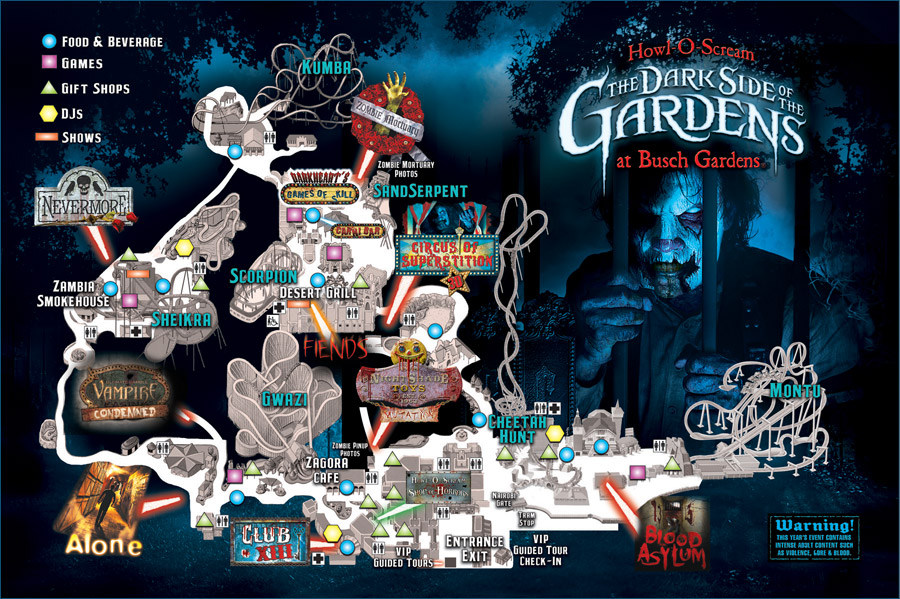 ---
Event Details
Howl-O-Scream 2012 ran for a total of 17 nights, beginning with Freaky Preview Weekend on September 21 & 22, then running each Thursday through Saturday evening before ending on October 27. Hours for the event were 7:30 p.m. to 1 a.m. on Freaky Preview Weekend and Thursdays, and 7:30 p.m. until 2 a.m. on Fridays and Saturdays for the rest of the season.
The Dark Side of the Gardens theme returned for the second season, but with a new tagline of "Unlock the Fear Inside." Also a change from the previous season, the event once again featured a main icon in Trickster. The leader of the hoards of creatures roaming the pathways, Trickster was the keeper of the gardens and also the icon of the new Circus of Superstition: 3-D house.
---
History
On Friday, July 13, the park released the line-up of houses for the 2012 event through their Howl-O-Scream Twitter account. The park first confirmed Death Row Vengeance and Deconstruction would not be coming back. Alone, Zombie Mortuary and Nevermore would return with small changes, but two others would be getting larger overhauls. Vampire Casino: Condemned would be a darker version of the house, literally, with guests using flashlights to provide most of the lighting in the "closed" casino. In Nightshade Toy Factory: Mutation, a radioactive leak gives the toys the power they needed to truly take over.
Along with the returning five returning houses, the park also announced two new ones. Blood Asylum would see the return of an insane asylum themed house, and Circus of Superstition 3-D brought the fear of clowns alive in a new dimension. Also revealed on that Friday the 13th was a new scare zone, Faded Memories, that would feature the return of some props, icons and other characters from past Howl-O-Scream events.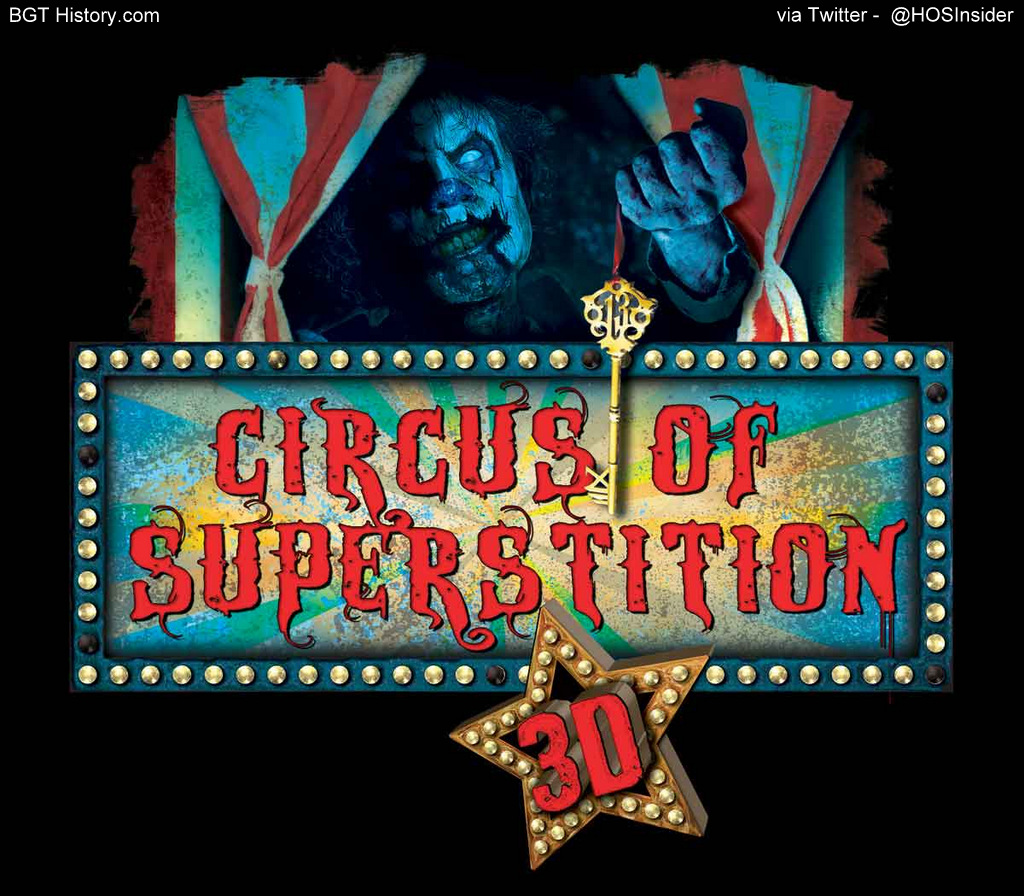 Beginning August 1, 2012, several teaser images were shared by the park on social media leading up to the full event theme and icon reveal.
On August 13, the park introduced the world to Trickster, the icon for Howl-O-Scream 2012.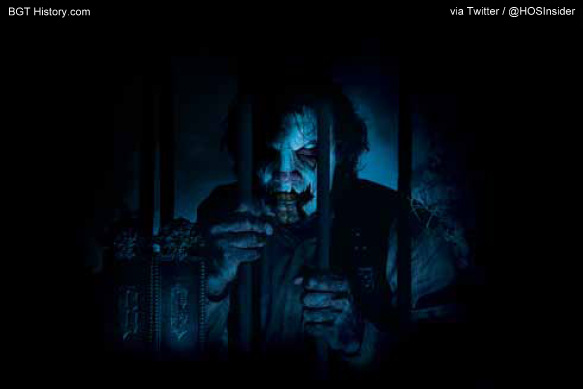 Full details for Howl-O-Scream 2012 were announced on August 15, 2012. From the press release:
From 13 sinister superstitions to the claustrophobic halls of an insane asylum, Howl-O-Scream 2012's new haunted houses are designed to touch every aspect of your deepest fears:

NEW! Blood Asylum – As lightning rages and thunder crashes outside, "The Creature" escapes from his holding cell in a high-security asylum for the criminally insane. Now this sadistic deviant is running rampant, skinning his former cellmates and turning the mental hospital into his own torture chamber. This serial killer's bloody playground will drive you out of your mind with fear.
NEW! Circus of Superstition 3-D – You've tried to avoid black cats and sidewalk cracks, but Trickster will make sure that all those years of bad luck catch up with you! Under his command, crazed circus clowns challenge you to survive 13 superstitions in their 3-D Tent of Terror, but it will take more than luck to escape this whole new dimension of fear.

Some of the most demented houses ever are back by popular demand with some horrible new twists:

Ultimate Gamble: CONDEMNED – Vampires have fallen out of vogue and the Ultimate Gamble casino has been shut down. The power is off, and the neon signs that once lit up the sky have gone out. Only the bravest guests dare visit the empty carcass of the once-vibrant casino, grabbing their flashlights to "enter at their own risk."
Nightshade Toy Factory: MUTATION – The old Nightshade Toy Factory has long been patrolled by diabolical dolls, terrible teddy bears and possessed playthings, but recent containment issues at a nearby nuclear facility have started to affect these terrible toys. Now, the mutations will stop at nothing to devour the humans that have "enslaved" them for so long.
Nevermore – Beating hearts, swinging pendulums and a raven's cries haunt the manor of Lenore, creating a demented and twisted nightmare. Step inside to experience the gothic terror that maddens the lord of the house. and feel delusion overcome reality. Find your way out of this horror story before paranoia authors your final chapter.
Zombie Mortuary – No one remembers how the epidemic started, but now, zombies live here. The undead that infest this small town funeral home feed on the fresh flesh and brains of mortuary mourners to satisfy their insatiable hunger. Avoid the walking dead or you may find yourself deeper than six feet under.
Alone… (A personal experience in horror) – The deranged Master Alexander Daedalus opened Minotaur Storage to house his vast collection of "cultural" remains. But now his sinister obsession with hoarding has expanded to stockpiling people. Escape this lunatic's labyrinth or you will become part of his collection. Can you make it out ALONE?Note: Alone is a unique, all-alone experience through the haunted house for an additional fee. Reservations are required, and each reservation can accommodate you and up to 3 additional victims. Pass member discount does not apply. Not included with any other VIP tour or upgrade product. Howl-O-Scream admission is required, but not included.

At Howl-O-Scream, even the sidewalks aren't safe from the things that go bump in the night. ALL NEW scare zones and bands of roaming hordes will keep guests watching their backs as they explore 335 acres of fright:

Faded Memories – Thirteen years of horror-filled memories come swarming back as the most sinister icons, diabolical characters and disturbing scenes from your favorite Howl-O-Scream haunted houses and scare zones from the past converge to create the ultimate "best of" scrapbook of scares.

After braving bone-chilling coasters in the dark such as Cheetah Hunt, SheiKra, Montu, Gwazi and Kumba, you can catch your breath at Howl-O-Scream's signature show, Fiends.

NEW! Slip of the Tongue: A Demonstration of Dark Magic – Your mind might play tricks on you as Travis and his silent-but-sultry partner Jasmine conjure up a creepy combination of mindreading, sideshow freakiness and "don't try this at home" danger in Nairobi Plaza.
NEW! The Awakening – This modern restaging of a fan favorite from Howl-O-Scream's past "revamps" the bloodsucking story of the transformation from human to vampire through contemporary music and dance, with performances in Stanleyville Plaza and Jungala.
The classic monster mash-up Fiends will be performing nightly at the Desert Grill in Timbuktu. Captivating creature of the night will infect you with dance fever and keep your pulse pounding with their deranged dance party. But when Dr. Freakenstein's naughty nurses start operating, the diagnosis is always "code pink."

Looking for a sick party or the perfect souvenir to round out your evening of evil?

CLUB XIII – Escape the hordes and head to the transformed Marrakesh Theater to drive yourself mad partying at Howl-O-Scream's exclusive dance club. This adults-only nighttime playground keeps the energy pumping all night long with non-stop music, premium signature cocktails, drink specials and exclusive appearances by Howl-O-Scream's most terrifying personalities.
Howl-O-Scream Shop of Horrors – Remember your evening of undead excitement with a Tricky trinket that's not for the faint of heart.

General admission is $79.99 plus tax. Reduced advance-purchase rates and special offers are available for Busch Gardens pass members at TheDarkSideOfTheGardens.com. Savings on general admission tickets are available in advance at participating Publix Supermarkets or with promotional codes found at participating Taco Bell and Applebee's locations in Central Florida.

Take advantage of the best way to see Howl-O-Scream with all-inclusive VIP Packages, which include event admission, a tour guide and your choice of three levels of terrifying special treatment: The Super experience is a three-hour group tour of haunted houses that includes front-of-the-line access. The five-hour Mega experience adds reserved show seating, front-of-the-line access to several roller coasters and preferred parking, and the Ultimate experience adds the Fright Feast dinner buffet, meet and greet with the Howl-O-Scream creative team and a $5 games card. All tours include commemorative photos, merchandise discounts and complimentary beverages. Packages start at $81, and pass member discounts are available.

For those who prefer to self-guide themselves through the event but want the front-of-the-line perks, there's the Front Line Fear pass for $35, which grants no-wait access to seven houses, excluding Alone. The Front Line Fear Extreme pass ups the access and also lets guests skip the line at five freaky coasters for $50.

The Thrills & Chills Weekend Pass lets true Halloween fans face their fears over and over again with a long weekend (Thursday through Sunday) of unlimited access to Busch Gardens' thrills by day and Howl-O-Scream's chills by night – all for just $79.99! Or, if you need to keep your adrenaline pumping all month long, the Recurring Nightmare Pass offers unlimited Howl-O-Scream visits on Thursday and Friday nights for just $79.99 (available only at the ticket windows.)

For out-of-town guests, Wicked Weekend Vacation Packages include Howl-O-Scream admission for two, plus one-night accommodations at one of Busch Gardens' preferred partner hotels. Prices start at $89 per adult, tax inclusive, based on double occupancy. Stay two nights as part of the Thrills and Chills Weekend Package, and get in to Busch Gardens day and night, and enjoy two nights of accommodations. Prices start at $175 per adult, tax inclusive.

And if there's one thing worse than being terrified, it's being terrified on an empty stomach. Fright Feast is the most deranged dinner show in town, featuring a buffet of monstrous main courses and devilish desserts, plus an exclusive performance of Fiends. Fright Feast guests are also the first to brave the dark with a half-hour of early access to the all-new haunted houses and front-of-line privileges until 8:30 p.m. Fright Feast is $26 per person, with group rates and discounts for pass and Fun Card members available.

Howl-O-Scream is a separate ticketed night event. No costumes are allowed.



Reservations for Alone were offered beginning on August 31. The Howl-O-Scream Shop of Horrors opened at the park the following day, September 1.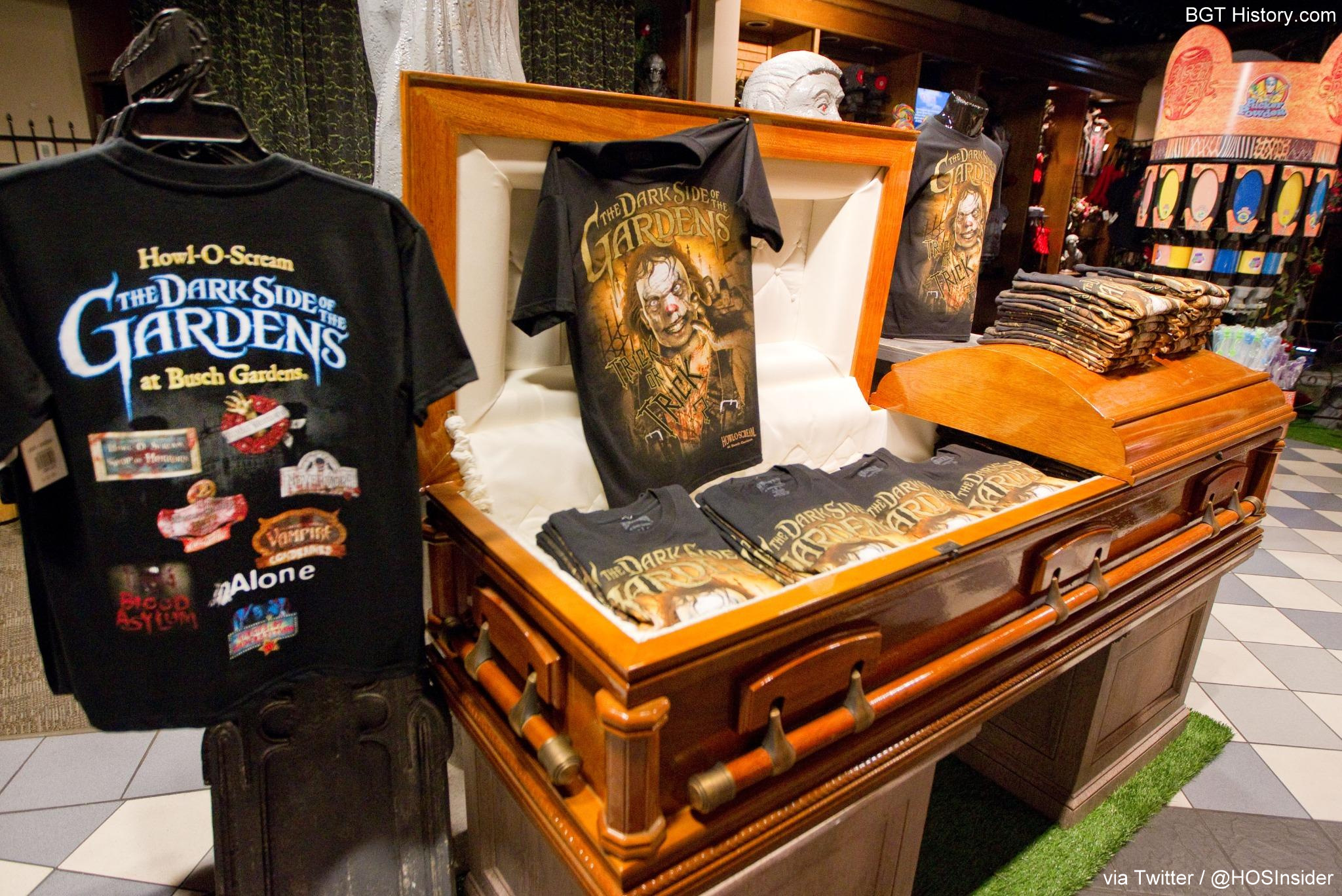 By September 10, the park launched a mobile version of the Howl-O-Scream website. Scream Cam held on September 20 for invited media guests, one day before the event opened to the public.
Club XIII was 18 and up only.
There were two specialty drinks available at any of the full bar locations during the event. Superstition XIII: Specially blended flavors of Vodka, Orange, Lemonade, Cherry and Ginger Ale and Trickster! features Three Olives "Loopy" Vodka, mixed with CranGrape and Lime.
Promotional codes available from Taco Bell, Applebee's or from specially marked Fanta products at participating Walgreens for $35 off the gate price of a single night admission. A Twisted Thursday 4-Pack was also available, where guests could purchase four or more Howl-O-Scream tickets for $29.99 each.
After 12 years of being in the Stanleyville Theater, this was the first year for Fiends to be performed in Desert Grill, with the first show of the night exclusive for Fright Feast ticket holders. Held at 6 p.m. each event evening, with ticket holders able to enter the park beginning at 5 p.m.
Alone ranked fifth in the nation of the top haunted houses in an article in the Chicago Tribune. From the piece:
Busch Gardens Tampa in Florida introduced the "solitary scare experience" in 2010 at Howl-O-Scream with the up-charge Alone maze that takes up to four people through the attraction at a time. The back-story involves an obsessive hoarder named Alexander Daedalus and his impressive collection of oddities. But whatever you do, don't touch anything. During the tour, the scare actors call you by name and purposely split up your party.
Beginning in August and wrapping up just days before Halloween, the park's blog posted a dozen articles detailing 13 superstitions and their origins, which were the basis for the new Circus of Superstition 3-D. They included:
Empty rocking chairs
Spilling salt
Broken mirrors
Black cats
Birds flying into windows
Stepping on cracks
Walking under ladders
Opening umbrellas indoors
Placing hats on beds
Losing your soul when photographed
Warts
Rabbit's feet
Salt circles
A VIP Party was held on opening night for Yelp Tampa Bay Elite members, replacing the tweetup (or "bleedup") offering that occurred in previous years. The event would end up being voted the Best Yelp Event of 2012 by elite members.
---
Images & Videos
The Howl-O-Scream 2012 television commercial:
Part of the promotional efforts for Howl-O-Scream 2012 included a Facebook game featuring Trickster. Here is a screengrab of the video that was part of the game (video originally uploaded to YouTube by Oni Hartstein):
Additional images and details on Howl-O-Scream 2012 will be added in the future.



---
Sources:
Busch Gardens Tampa Bay | Sep 1 2012 – accessed 12/24/2017
Busch Gardens Tampa Bay | Oct 8 2012 – accessed 4/22/2018
Busch Gardens Tampa Bay | Oct 9 2012 – accessed 4/22/2018
Busch Gardens Tampa Bay | Oct 11 2012 – accessed 4/22/2018
Busch Gardens Tampa Bay | Oct 25 2012 – accessed 4/22/2018
Twitter – @BuschGardens | Aug 15 2012 – accessed 1/22/2019
Twitter – @BuschGardens | Sep 21 2012 – accessed 1/22/2019
Twitter – @BuschGardens | Jan 25 2013 – accessed 1/24/2019
Twitter – @howloscream (@HOSInsider) | Jul 13 2012 & 2, 3, 4, 5, 6, 7 – accessed 1/29/2020
Twitter – @howloscream (@HOSInsider) | Aug 1 2012 – accessed 1/30/2020
Twitter – @howloscream (@HOSInsider) | Aug 3 2012 – accessed 1/30/2020
Twitter – @howloscream (@HOSInsider) | Aug 6 2012 – accessed 1/31/2020
Twitter – @howloscream (@HOSInsider) | Aug 8 2012 & 2 – accessed 2/2/2020
Twitter – @howloscream (@HOSInsider) | Aug 13 2012 – accessed 3/22/2020
Twitter – @howloscream (@HOSInsider) | Aug 28 2012 – accessed 3/23/2020
Twitter – @howloscream (@HOSInsider) | Aug 31 2012 & 2 – accessed 3/23/2020
Twitter – @howloscream (@HOSInsider) | Sep 10 2012 – accessed 3/24/2020
Twitter – @howloscream (@HOSInsider) | Sep 19 2012 – accessed 3/24/2020
Chicago Tribune | Sep 28 2012 – accessed 3/24/2020
Twitter – @howloscream (@HOSInsider) | Oct 3 2012 – accessed 3/24/2020
Twitter – @howloscream (@HOSInsider) | Oct 18 2012 – accessed 3/24/2020
Last update: 3/28/2020