Celebrating its 10th year in 2009, Howl-O-Scream returned in style for 17 nights featuring seven haunted houses, four scare zones, two shows, and much more.
Houses
Delta Epsilon Delta: Pledge Week (New)
Nightshade Toy Factory (New)
Reconstruction: The Doctor is In
Death Row Vengeance
13
Taste of Blood
Trapped in the Walls
Scare Zones
Unearthed (New)
Banshees (New)
El Carnaval del Muerto (New)
Werewolves (New)
Shows
Full Moon Cabaret: The Magic of Jason Byrne (New)
Fiends
---
Event Details
Howl-O-Scream 2009 ran for a total of 17 nights, including Freaky Preview Weekend on September 25 & 26, and Thursdays through Saturdays from October 1 through 31. The event started at 7:30 p.m. each evening, and ended at 1 a.m. during Freaky Preview & on Thursdays, and ran until 2 a.m. on the rest of the nights.
House of Vayne was the theme for Howl-O-Scream 2009, with the tagline "Evil never goes out of fashion." The icon was Ms. Vayne, who along with her coven of vampire models, brought a fashionable but sinister sense of style to the event. Ms. Vayne, along with her top models Erik, Anya, and Elsa, could be seen walking the stage each night just inside the park gates. Ms. Vayne's "soundtrack" was released through the Howl-O-Scream website, and some of the music used in the entrance area came from an album called Psychotrance 2001.
The event featured a total of seven haunted houses, with two of them being new. Delta Epsilon Delta: Pledge Week was one of the new houses, often referred to as the DED house. The park described the house:
"For decades, the most mysterious sorority on campus has invited only select girls from the top families to join. But this year, it's open rush, and the sisters are welcoming new members with open arms. Can you escape before you fall victim to the sinister secrets of this twisted sisterhood? No one does it like a DED girl…"
Nightshade Toy Factory was the second new house for the season and was located in the former Monorail station and storage area below Skyride. The park's description:
By day, the old Nightshade Toy Factory appears abandoned. But as night falls, the mysterious manufacturing plant glows and hums as it creates the diabolical dolls, terrible teddy bears and possessed playthings of your childhood nightmares. These twisted toys are alive…and they are coming after the adults who have forgotten them.
Returning from the previous season was Death Row Vengeance. From the park's description:
The inmates at Grey Echo Penitentiary are slated for execution, and they blame you. With their last breath, they curse those who do nothing to save them from the electric chair or lethal injection and vow to haunt those who watched them suffer. Will you make it out alive when they come back to make good on their dying promise?
The additional houses, with their promotional descriptions:
Reconstruction: The Doctor Is In – Dr. Edger VonAngst has the skill and technology to make you over…but what will you become? This mad reconstructive surgeon has set up shop, putting human parts back together with mechanical pieces and combining flesh, bone, and steel in the most hideous ways. Nip/Tuck has never been like this!
13 – Each October, the underground members of The Messengers come out of hiding to seek out 13 unlucky victims, who are tracked down and tortured before the gang feasts on their flesh. This year, they have already claimed 12 lives so far… will 13 be your unlucky number?
Taste of Blood – Once revered as royalty, hordes of undead vampires have now been forced underground into the subways and sewers to avoid the sunlight. By day, they feed on rats to survive. But as night falls, these fanged fiends take to the streets to seduce fresh blood.
Trapped in the Walls – The gruesome fate of an innocent family made headlines when it happened. Years later, evil still lingers in the rooms where the tragedies happened. It has seeped into the walls, trapping dark demons and infesting a house that can't let go of its horrible history.
Four new scare zones joined the houses in providing extra scares at points around the park. The scare zones and their descriptions from the park:
Unearthed – Ancient evil rages when archeologists unearth the tomb of a feared Egyptian ruler, releasing his spirit into the world of the living. Ahmenhotep and his underworld minions will carry out a dreaded curse, seeking revenge on those who dared to defile his final resting place.
Banshees – According to legend, a banshee will wail around a house if someone there is about to die. When several banshees appear at once, it is said to foretell the death of someone great or notable. Here, Banshees glide through the darkness, preying on the living and looking to make their screeching songs come true.
El Carnaval del Muerto – In the small town of Decada de Sustos, the locals come together once a year to celebrate death. But in the midst of the wild revelry, visitors to this tiny village unwittingly play an important part in this macabre party by becoming the victims of the raucous and bloodthirsty townspeople.
Werewolves – As night falls, a hoard of restless half-man, half-beast monsters patiently wait for innocent guests to stumble into their lair. Those who are not worthy to join the clan will be preyed upon as dinner. These scavengers' insatiable hunger is matched only by their cunning and determination to satisfy their need to feed.
Along with the four scare zones, Roaming Hordes of all sorts of monsters, clowns, zombies, and other creatures might be found anywhere in the park during Howl-O-Scream.
Full Moon Cabaret: The Magic of Jason Byrne was performed in Desert Grill each event night. Fiends, with Dr. Freakenstein and the Naughty Nurses, returned with their raucous dance party.
Beyond the houses, scare zones, roaming hordes, and shows, there was also Club EnVy, a 21 and up dance club serving exclusive cocktails, special drink offers, and meet and greets with select Howl-O-Scream characters. Access was available for a $10 cover charge, or through a special Happy Hour upgrade option that included hors d'oeuvres. Several photo ops with actors were available around the park, including at Sultan's Tent next to Zagora Cafe and at the Howl-O-Scream Shop of Horrors.
A number of ticket and upgrade options were available for guests attending Howl-O-Scream 2009. General admission for a single night was $69.95, but there were a variety of discounts available, including promotional codes provided by Bud Light, Domino's Pizza, and Applebee's.
Freaky Preview Weekend tickets started at $29.95 per night, with passport members saving an additional five dollars. Platinum passport members received free entry on that weekend. A Twisted Thursday Night 4-Pack was offered online for Florida residents, where guests could purchase four or more tickets on any Thursday night for $19.95 each.
Additional packages included a Thrill & Chills Weekend Pass that allowed access to Busch Gardens during the day and Howl-O-Scream at night from Thursday through Sunday for $79.95. Gory Getaway vacation packages were available, combining admission to Howl-O-Scream with a stay at a Busch Gardens partner hotel starting at $238.04 per person.
The Recurring Nightmare Pass returned, with access to HOS for 11 nights (no Saturdays and no Freaky Preview). It was priced at $69.95 and available at the front gate. Just before Halloween, it was announced that Recurring Nightmare Pass holders could attend the final event night.
For those who wanted to skip the lines to the houses, the park offered Front Line Fear passes for $35. For $45, a Front Line Fear Plus pass added front-of-the-line access to the major thrill rides.
All-Inclusive Fear Tours were also offered, and available at three different levels. "The Viewing" was a three-hour group tour of haunted houses and major thrill rides. The five-hour "Funeral" group tour added reserved show seating, and "The Embalming" included the Fright Feast dinner buffet, preferred parking, and a private "Ghoul Guide" for parties of three or more. All tours included admission, commemorative photos, and complimentary beverages, with pricing starting at $89.95 per person. A special "Pursuit of the Paranormal" tour was also offered with limited availability.
Other upgrades included Fright Feast, held in Desert Grill each evening with an exclusive performance of Full Moon Cabaret: The Magic of Jason Byrne. Along with dinner and a show, for $24.95, Fright Feast guests also got early access to some of the houses, and front-of-the-line access from 7:30 to 8:30 p.m.



---
History
Promotion of Howl-O-Scream 2009 began in earnest in early August of that year. The park launched new Twitter accounts specifically for the event, including @HOSInsider on August 11, and @MSVayne.
The big reveal came on August 21, 2009, with the full press release sharing all of the houses, scare zones, shows, and other details about the event. That day also saw the launch of the season's themed website HouseofVayne.com. Here's a walkthrough of the heavily themed website:
Along with auditions held earlier in the summer, an additional night of tryouts was held on Friday, August 21 from 5 to 8 p.m.
The new Howl-O-Scream Shop of Horrors opened at the park on September 1 and featured a variety of Howl-O-Scream souvenirs and other Halloween-themed items. A photo-op with the DED girls was also available during event hours. Unlike the previous year, Howl-O-Scream merchandise was only sold in the store and was not available online. More merchandise arrived as the event neared, including a House of Vayne hoodie available as of September 15.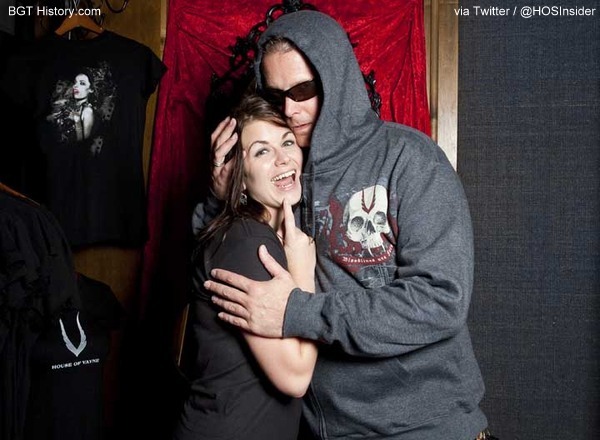 A Howl-O-Scream 2009 television commercial:
A media event was held on September 24, just one day before the event opened to the public. Invitations sent out included a miniature dress form with blood drops and a zipper draped across it. The invited outlets each got to send one guest through the new Delta Epsilon Delta house wearing the "Screamcam" that showed their face as they reacted to what they encountered. The park later shared a clip of one of those guests:
A yearly tradition, the Tampa Bay Buccaneers Cheerleaders visited Howl-O-Scream, and some of their reactions were caught on camera and shared by the park:
On Thursday, October 15, Howl-O-Scream hosted a "Bleedup" for contest winners from Twitter and Facebook. Winners received free admission to Howl-O-Scream for the evening, access to Club enVy, Front Line Fear passes, free parking, exclusive photo ops with Ms. Vayne and her models, and a bag full of Howl-O-Scream themed items.
Local designers from Tampa's International Academy of Design and Technology were challenged to create an ensemble based on the House of Vayne theme and using only zippers. Held at Club enVy, the designers showed off their creations and were scored by judges and the audience at the event one night. Ioulia Svyatogor and Joleane Santiago took the top honors for their designs.
On October 27 & 28, a blood drive was held at Busch Gardens from 11 a.m. to 6 p.m. each day. Some of the characters from Howl-O-Scream visited with donors, including the Naughty Nurses.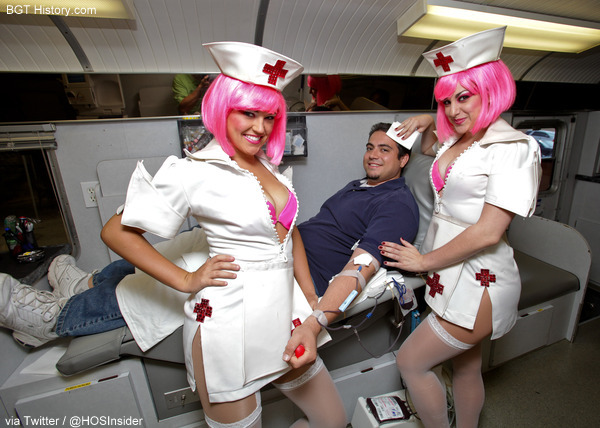 Howl-O-Scream 2009 was nominated for best International Attractions by the UK-based Screamie Awards.



---
Sources:
Twitter – @howloscream (@HOSInsider) | Aug 11 2009 – accessed 1/20/2020
Twitter | @MsVayne – accessed 8/16/2009
Twitter – @howloscream (@HOSInsider) | Aug 11 2009 – accessed 1/20/2020
Twitter – @howloscream (@HOSInsider) | Aug 12 2009 – accessed 1/20/2020
Twitter – @howloscream (@HOSInsider) | Aug 21 2009 – accessed 1/20/2020
Ted Murphy | Aug 25 2009 – accessed 1/22/2020
Twitter – @howloscream (@HOSInsider) | Sep 1 2009 – accessed 1/21/2020
Twitter – @howloscream (@HOSInsider) | Sep 1 2009 – accessed 1/21/2020
Twitter – @howloscream (@HOSInsider) | Sep 15 2009 – accessed 1/21/2020
Twitter – @howloscream (@HOSInsider) | Sep 23 2009 – accessed 1/21/2020
Twitter – @howloscream (@HOSInsider) | Sep 24 2009 – accessed 1/21/2020
Twitter – @howloscream (@HOSInsider) | Sep 25 2009 – accessed 1/21/2020
Twitter – @howloscream (@HOSInsider) | Sep 29 2009 – accessed 1/21/2020
Twitter – @howloscream (@HOSInsider) | Oct 1 2009 – accessed 1/21/2020
Twitter – @howloscream (@HOSInsider) | Oct 6 2009 – accessed 1/21/2020
Twitter – @howloscream (@HOSInsider) | Oct 8 2009 – accessed 1/21/2020
Twitter – @howloscream (@HOSInsider) | Oct 9 2009 – accessed 1/21/2020
Twitter – @howloscream (@HOSInsider) | Oct 14 2009 – accessed 1/21/2020
Twitter – @howloscream (@HOSInsider) | Oct 14 2009 – accessed 1/21/2020
RIToC | Oct 16 2009 – accessed 1/22/2020
Onezumi | Oct 19 2009 – accessed 8/16/2012
Twitter – @howloscream (@HOSInsider) | Oct 19 2009 – accessed 1/22/2020
Twitter – @howloscream (@HOSInsider) | Oct 20 2009 – accessed 1/22/2020
Cool Moms Rule | Oct 26 2009 – accessed 10/29/2009
YouTube – Howl-O-Scream Tampa Bay | Oct 26 2009 – accessed 1/22/2020
Twitter – @howloscream (@HOSInsider) | Oct 27 2009 – accessed 1/22/2020
Behind the Thrills | Aug 22 2009 – accessed 6/3/2013
Twitter – @howloscream (@HOSInsider) | Oct 27 2009 – accessed 1/22/2020
Twitter – @howloscream (@HOSInsider) | Oct 30 2009 – accessed 1/25/2020
The Screamie Awards | Previous Winners – accessed 9/18/2010
Last update: September 18, 2023