Christmas Town returned for the 2020 season with new fireworks, several returning shows, physically distant meet & greets, special culinary and shopping options, and lots of twinkling lights and other holiday fun.
---
Event Details
Christmas Town 2020 ran from November 20 through January 3, 2021, with a preview weekend on November 14 & 15. Featuring twinkling lights and holiday decor throughout the park, Christmas Town also had special entertainment, meet & greets, and tastes of the season at a number of special culinary booths. The park encouraged guests to share their experiences at the event with #deckthegardens.
The event began with a preview weekend on November 14 & 15, 2020. While not offering the full Christmas Town experience, guests were able to enjoy a variety of lights and decor, meet & greets with Santa and Rudolph & Friends, and performances of Three Kings Journey at its new home inside Dragon Fire Grill. The new Spark the Night fireworks were shown on Saturday evening. A taste of what was to come with the holiday culinary booths was available with Cookies & Cocoa, featuring warm deep-dish cookies, and specialty hot cocoa with the option to have it spiked for an adult treat.
One special offering during the event was a scavenger hunt. Guests could purchase a scavenger hunt map at several gift shops around the park, and when completed, could redeem it for an exclusive pin.
A map with the major Christmas Town locations and entertainment offerings was available digitally and on boards in the park. (Click the map image for a high-resolution version.)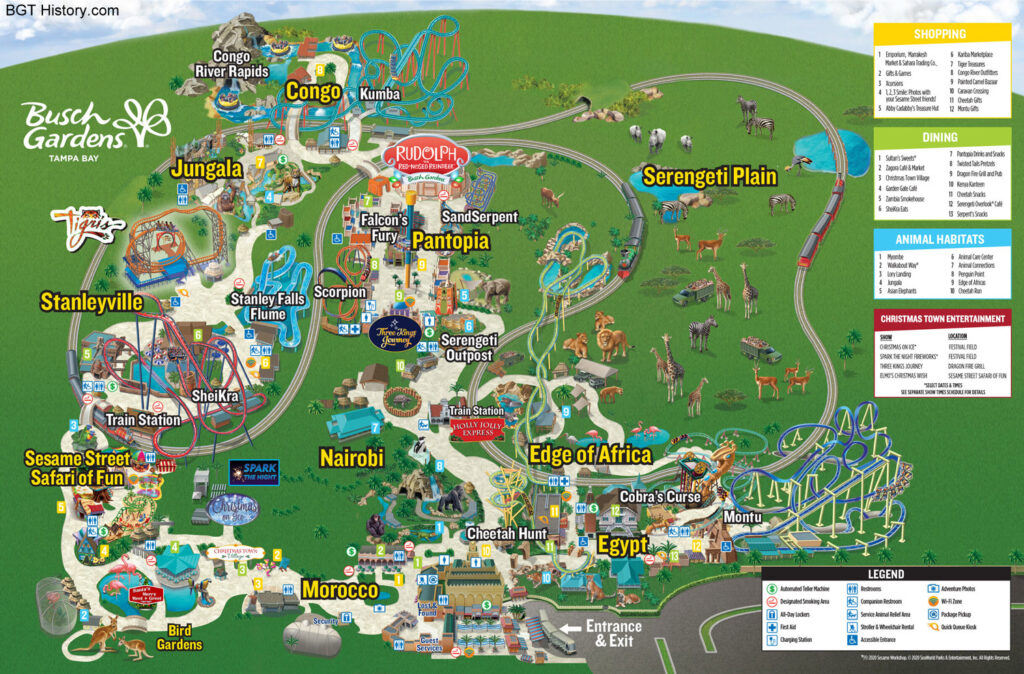 ---
History
A listing for Christmas Town 2020 appeared on the park's special events page by early September with a date range of November 25 through January 3, 2021. By the end of the month, that range of dates had been updated to November 21 through January 3.
Details for Christmas Town 2020 were announced by the park on October 29, 2020, which was then scheduled to begin on November 20 and run daily through January 3, 2021, with a preview weekend with select offerings on November 14 & 15, 2020. The announcement on the park's social media accounts was accompanied by a video showing some of the event's highlights and safety measures in place.
The preview weekend event was originally scheduled to have a short performance from Christmas on Ice, but that was removed from the schedule at the last minute and replaced with three performances of Three Kings Journey each evening in its new home in Dragon Fire Grill.
An additional night of fireworks was added on December 18, 2020.
---
Images & Video
The park shared a short time-lapse video of the Festival Field stage transitioning from being set up for Fiends during Howl-O-Scream to Christmas On Ice, complete with an ice rink:
Additional details on Christmas Town 2020 will be added in the future.



---
Sources:
Special Events | Busch Gardens Tampa Bay – accessed 9/3/2020
Special Events | Busch Gardens Tampa Bay – accessed 9/26/2020
Twitter – @BuschGardens | Oct 29 2020 – accessed 10/29/2020
Christmas Town Event Preview | Busch Gardens Tampa Bay – accessed 11/10/2020
Christmas Town Event Preview | Busch Gardens Tampa Bay – accessed 11/14/2020
Twitter – @BuschGardens | Nov 20 2020 – accessed 11/20/2020
Twitter – @BuschGardens | Nov 28 2020 – accessed 11/28/2020
Twitter – @BuschGardens | Dec 4 2020 – accessed 12/4/2020
Twitter – @BuschGardens | Dec 16 2020 – accessed 12/16/2020
Last update: September 4, 2021