Held each Spring from 2009 until 2016, the 8th Grade Grad Nite event was a special after hours event for eight graders finishing out their school year. The event was billed as a safe, alcohol free night of fun for students. Tickets could only be ordered through participating schools, and were not available to the general public.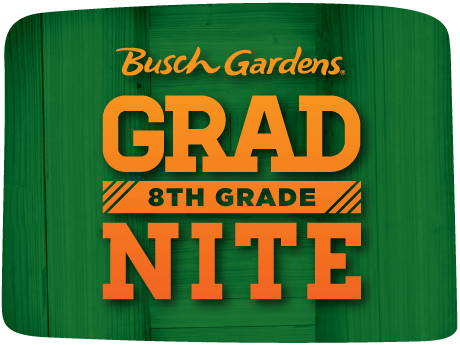 ---
History
The inaugural 8th Grade Grad Nite was held on May 1, 2009.
It returned the following year on May 7, 2010 from 7 p.m. until midnight. The price for the event that year was $39.95 per student, with one free chaperone for every 10 student tickets purchased. An option to extend the stay with an after hours sleepover was available for an additional $35, with complimentary breakfast served. Those wishing to continue the fun for another day could also get discounted tickets at $39 for students and $44 for chaperones.
In 2011, the event was held on May 13. The same pricing and options for overnight stay and next day tickets were offered, along with early admission into the park beginning at 4 p.m. on the event date.
The following year, on May 4, 2012, 8th Grade Grad Nite returned. Pricing for the overnight sleepover increased to $38 per person, but it was noted that one free chaperone for every 15 students was offered. Just as in the past, it included a secure facility for sleeping and continental breakfast in the morning. Discount tickets for the following day remained at the same prices. 2012 was also the first year for a similar event for graduating 12th graders.
The 2013 event date was May 3. The following year, 2014, it was scheduled for May 2. However, the event was cancelled due to heavy rain and some flash flooding within the park. A park spokesperson stated due to the number of participating schools and other events already scheduled at the park in the coming weeks, they were unable to reschedule the event.
There was some controversy over the park's decision not to refund any money, though, instead offering a two-day ticket and one meal voucher for each individual that expired October 21, 2014. After a number of negative posts by parents and other guests on social media about the decision, refunds were offered as an alternative to the ticket offer.
In 2015, 8th Grade Grad Nite was held on May 1, and in 2016 it was held on April 29. After the 2016 date, the park decided not to continue Grad Nite events.



---
Sources:
Busch Gardens Tampa Bay | Mar 23 2011 – accessed 3/27/2018
Busch Gardens Group Events | Grad Nite – accessed 3/27/2018
Busch Gardens Sleepovers | Grad Nite – accessed 3/27/2018
Busch Gardens Group Events | Grad Nite – accessed 3/27/2018
Busch Gardens Tampa | 8th Grade Grad Nite – accessed 3/27/2018
Stewart Middle | Current Happenings – accessed 3/27/2018
Busch Gardens Tampa | 8th Grade Grad Nite – accessed 3/27/2018
BGTFans | May 6 2014 – accessed 3/27/2018