Located in the center of Pantopia, Twisted Tails Pretzels features hand-made soft pretzels, including the signature Bacon Pretzel Fury – thick slices of bacon wrapped up in a braided soft pretzel. The location also features several craft beers on tap, along with an assortment of fountain soft drinks and other grab and go snacks.
Fast Facts:
Open Date: April 25, 2014
Location: Pantopia
Replaced: Sultan's Arcade and The Oasis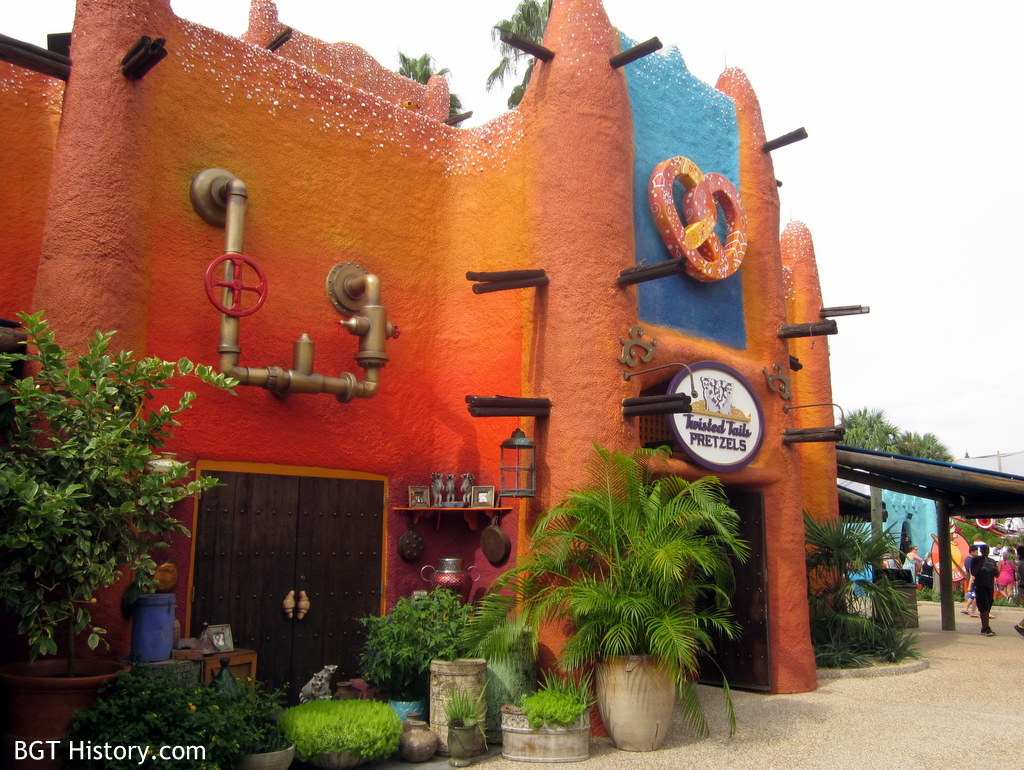 ---
Today
There is no seating available indoors, but there are several tables with chairs under cover just outside the building, along with covered seating near the carousel, and open air seating at the "The Sitting Place."
All Day Dining Deal is not accepted at Twisted Tails Pretzels. The Buy One, Get One Free snack offer with the All Day Dining Deal is applicable here. The self-service fountain machines can be used for the free and discounted cup refill program.
---
History
The location was formerly Sultan's Arcade, which had a variety of games, and The Oasis, which served up smoothies and other snacks. As part of the addition of Falcon's Fury and the conversion of Timbuktu to Pantopia, the arcade and concession area were combined and completely renovated to form Twisted Tails.
Twisted Tails Pretzels first opened to guests for several hours on April 25, 2014 before beginning normal daily operation the following day. The first purchase made by a guest at the new concession, a Bacon Pretzel Fury, was enjoyed by the author and Shea W., a soft pretzel aficionado visiting from Virginia.
Additional information and images on Twisted Tails Pretzels will be added in the future.
---
Sources:
Pretzels and Pantopia – BGTFans – accessed 11/6/2016