Tigris is Busch Gardens' newest roller coaster, opening in the Stanleyville section of the park in Spring 2019.
Fast Facts:
Official Open Date: April 19, 2019
Location: Stanleyville
Replaced: Tanganyika Tidal Wave
---
History
The park released their first official construction update video on October 31, 2018 as part of a short series called Tracking Tigris.
As part of the International Association of Amusement Parks and Attractions (IAAPA) Expo in Orlando, the park released a computer generated video showing what the ride experience would look like on Tigris on November 13, 2018.
JUST LAUNCHED: the official ride experience of Tigris, Florida's tallest launch coaster! Stay tuned in the coming months as we share updates on construction! #TakeOnTigris #IAAPA100 @IAAPAHQ pic.twitter.com/I1h0Dikxgs

— Busch Gardens Tampa Bay (@BuschGardens) November 13, 2018
The park shared several images of track arriving for Tigris on November 29, 2018.
The first track section was installed on December 3.
A second webisode of the Tracking Tigris series was released on December 28, 2019.
A lot has happened at the Tigris construction site recently! Get an inside look beyond the wall with Andrew & Taylor. https://t.co/5hzVL2ZW1a pic.twitter.com/uPVCvBELzY

— Busch Gardens Tampa Bay (@BuschGardens) December 28, 2018
A few more images from the construction site were shared by the park on January 8, 2019.
Most of the supports and track segments for Tigris were installed outside of park hours, meaning overnight construction. The park shared a few images on January 16, 2019 of recent progress made on the third shift.
Another shot was shared by the park on the evening of January 28.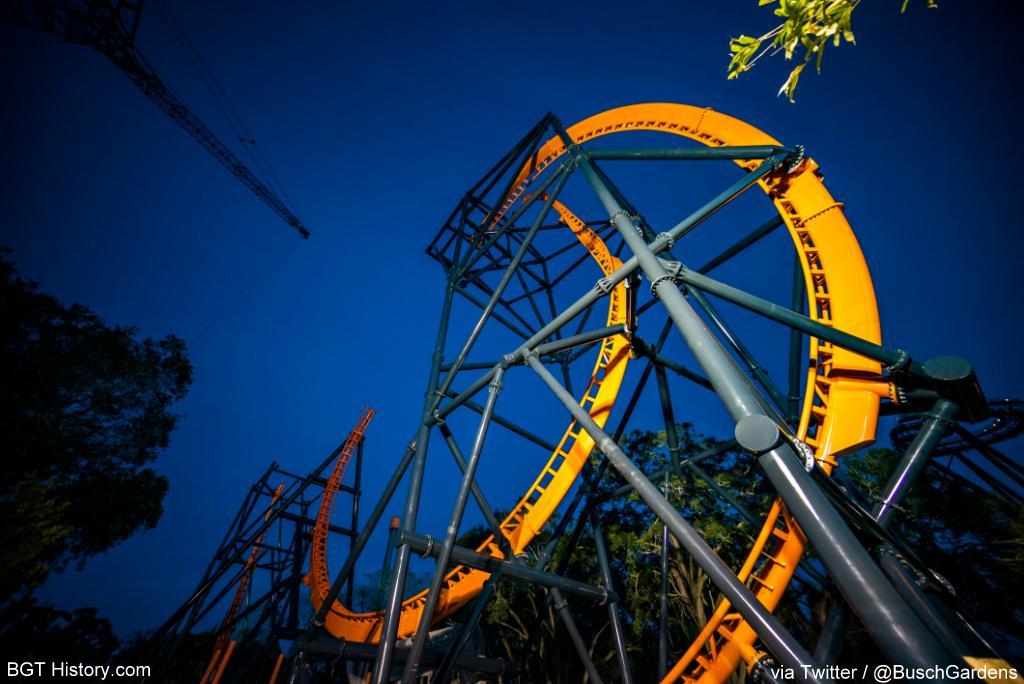 On the morning of April 4, 2019, the park announced through their social media channels that Tigris would officially open on April 19, just in time for Easter weekend.
The first two weekends in May 2019, from 8 a.m. to 10 a.m. each Saturday and Sunday, annual pass members received exclusive ride time on Tigris, along with a free reusable shopping bag from the new Tigris Gifts. SheiKra and Stanley Falls were also scheduled to operate during the event, with SheiKra Eats and a nearby snack cart open for food & beverage purchases.
Additional details and images on Tigris will be added in the future.
---
Sources:
Twitter – @BuschGardens | Apr 4 2019 – accessed 4/4/2019
Busch Gardens Tampa Bay | Tigris Exclusive Pass Member Event – accessed 4/4/2019
Twitter – @BuschGardens | Oct 31 2018 – accessed 8/2/2019
Twitter – @BuschGardens | Nov 13 2018 – accessed 8/2/2019
Twitter – @BuschGardens | Nov 29 2018 – accessed 8/2/2019
Twitter – @BuschGardens | Dec 3 2018 – accessed 8/2/2019
Twitter – @BuschGardens | Dec 28 2018 – accessed 8/3/2019
Twitter – @BuschGardens | Jan 8 2019 – accessed 8/3/2019
Twitter – @BuschGardens | Jan 16 2019 – accessed 8/3/2019
Twitter – @BuschGardens | Jan 28 2019 – accessed 8/29/2019