Roaring through the Congo section of Busch Gardens, Kumba is a steel roller coaster that opened in 1993. The 143-foot tall coaster features a 135-foot first drop, seven inversions, and speeds up to 60 miles per hour.
Fast Facts:
Official Open Date: April 21, 1993
Location: Congo
Height: 143 ft
Length: 3,978 ft
Max Speed: 60 mph
Duration: 2:54
Inversions: 7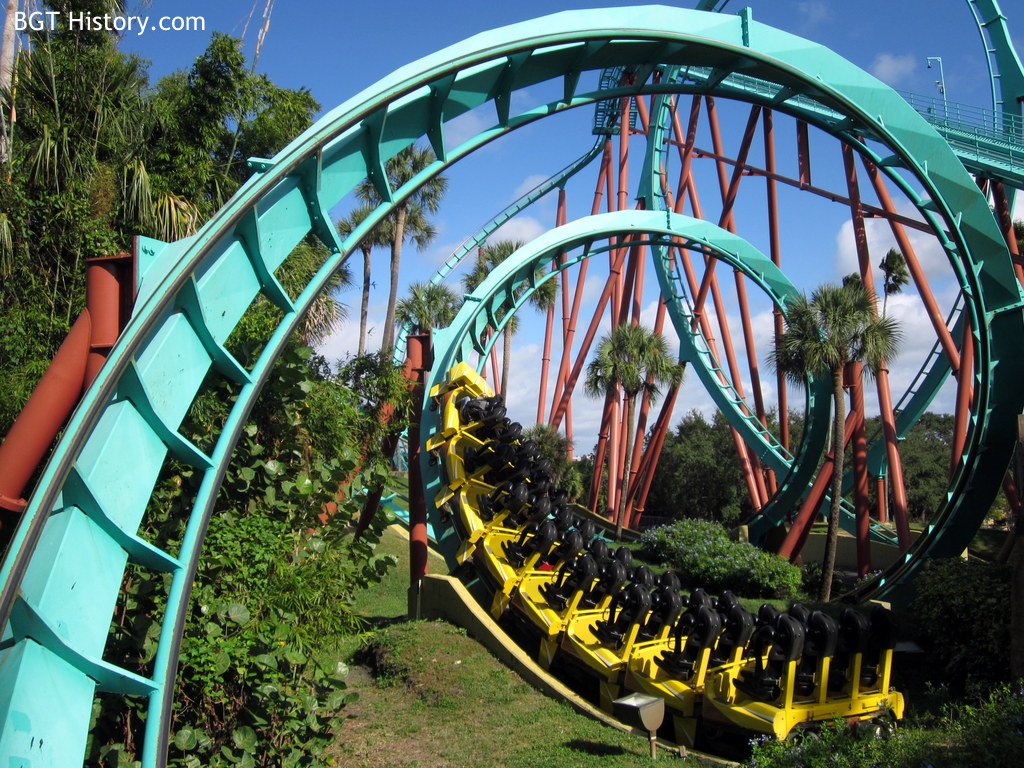 ---
History
In the months leading up to Kumba's opening in 1993, promotional efforts included a themed float used in several Tampa Bay area parades and radio ads featuring a thundering voice touting the new roller coaster.
On April 20, 1993, Busch Gardens held a preview of Kumba for invited media and approximately 200 members of American Coaster Enthusiasts (ACE). While the roller coaster itself was ready, work continued at a feverish pace around the site including on structures over portions of the queue.
The roller coaster officially opened to guests the following day, April 21, 1993. A total of 21 radio stations were scheduled to broadcast live from the park, with live satellite feeds sharing video from opening day to stations across the country.
On hand for the opening festivities was comedian and actor Michael Richards, best known for his role as Kramer on NBC's Seinfeld. On an episode of the local television show Harris & Company, an on-site interview with Richards showcased a reverse POV of him and host Jack Harris riding Kumba, along with more views of the new coaster.
Kumba was Busch Gardens' third roller coaster, and the first that was custom designed for the park. It's from Bolliger & Mabillard (commonly referred to as B&M by coaster enthusiasts), a Swiss design firm. It was the first sit-down roller coaster from the company, following several stand-up and inverted designs. Kumba also boasted several other firsts including the widest vertical loop (108 feet in diameter), a triple camelback twist featuring three seconds of weightlessness, and a 110-foot diving, twisting loop simulating the feeling of a stunt aircraft dive.
The name Kumba was one of about 500 suggestions for the new roller coaster. According to marketing materials from the park at the opening, Kumba means 'roar' in an African language (often cited as Swahili or Kikongo, though a contemporary newspaper report said no linguistic experts contacted could confirm its origin). The track spine was left hollow, allowing the roaring sound.
At its opening, Kumba had the world's tallest vertical loop. It was also the tallest, fastest, and longest roller coaster in Florida. The park has stated it hits an average G-force of 3.8. A newspaper article from opening day listed the ride time as 2 minutes, 38 seconds, and having a maximum speed of 63 miles per hour.
Kumba was scheduled for its annual refurbishment from May 4 through 27, 2010. During that downtime, the coaster was repainted.
In early March 2016, the existing coin-operated lockers behind the Kumba photo location were replaced with new ones. With self-service electronic kiosks for renting and paying, it cost $1 for up to two hours of time and $2 for each additional hour. By May 2016, a new option allowed guests to move their locker rental between attractions for up to two hours at a cost of $5 per day.
Kumba's annual maintenance in 2016 was originally scheduled from September 12 through 22, but it would end up reopening on September 25.
In 2017, the annual maintenance period was scheduled for August 7 through September 1. Along with the normal work on the various coaster components, sections of several supports along the guest pathway received a fresh coat of paint.
During its annual maintenance in the Spring of 2019, Kumba received a complete repaint, refreshing its trademark color scheme. The park released an on-ride POV video through its Twitter account:
Following rumors among the online theme park enthusiast community that Kumba would be closing permanently soon, the park set the record straight on social media on March 16, 2022, confirming the roller coaster wasn't going anywhere.
Additional details and images on Kumba will be added in the future.



---
Sources:
"Coasters by the Numbers" Fact Sheet, Busch Gardens Tampa Bay 8/16/2016
Kumba | Busch Gardens Tampa – accessed 9/4/2016
St. Petersburg Times | Apr 22 1993 – accessed 1/14/2017
BGTNation | May 2010 – accessed 9/26/2017
Busch Gardens Tampa | Aug 11 2015 – accessed 7/21/2018
Twitter – @MyBuschGardens | May 4 2010 – accessed 12/6/2018
Twitter – @BuschGardens | May 16 2011 – accessed 12/15/2018
Twitter – @BuschGardens | Aug 19 2011 – accessed 12/17/2018
Twitter – @BuschGardens | Jun 22 2014 – accessed 6/13/2019
Twitter – @BuschGardens | Sep 25 2016 – accessed 7/6/2019
Twitter – @BuschGardens | Mar 30 2019 – accessed 12/11/2019
Tampa Bay Times (St. Petersburg Times) | Apr 24 1993 – accessed 4/21/2020
Twitter – @androckb | Mar 9 2016 & 2, 3 – accessed 11/2/2020
Pixels At The Parks | May 8 2016 – accessed 6/2/2016
Pixels At The Parks | Sep 3 2016 – accessed 10/11/2016
Touring Central Florida | Aug 12 2017 – accessed 8/16/2017
St. Petersburg Times | Apr 21 1993 – accessed 4/21/2021
Twitter – @BuschGardens | Mar 16 2022 – accessed 3/16/2022
Twitter – @BuschGardens | Mar 16 2022 – accessed 3/16/2022
Last update: February 27, 2023