Roaring through the Congo section of Busch Gardens, Kumba is a steel roller coaster that opened in 1993. The 143-foot tall coaster features a 135 foot first drop, seven inversions, and speeds up to 60 miles per hour.
Fast Facts:
Official Open Date: April 21, 1993
Location: Congo
Height: 143 ft
Length: 3,978 ft
Max Speed: 60 mph
Duration: 2:54
Inversions: 7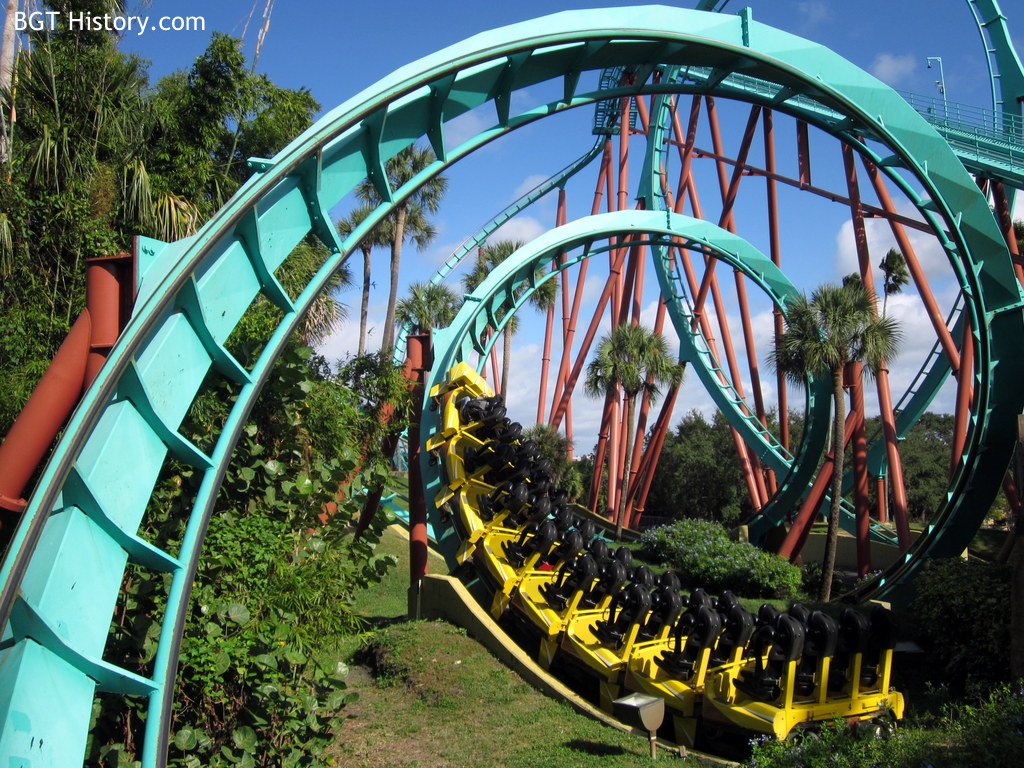 ---
History
The official opening date was April 21, 1993, with a preview for media and some 200 members of American Coaster Enthusiasts (ACE) held the day prior.
The name Kumba in an African language (often cited as Swahili or Kikongo) means roar. The track was left hollow which allows for the roaring sound.
At its opening, Kumba had the world's tallest vertical loop. It was also the tallest, fastest and longest roller coaster in Florida at that point. The park has stated it hits an average G-force of 3.8.
Kumba was scheduled for its annual refurbishment from May 4 through 27, 2010. During that refurb, the coaster was repainted.
Kumba reopened from its annual maintenance on September 25, 2016.
During its annual maintenance in the Spring of 2019, Kumba received a complete repaint, refreshing its trademark color scheme. The park released an on-ride POV video through their Twitter account:
New paint, who dis? https://t.co/NaIjD4Sz9p pic.twitter.com/5GoiRPJ0zF

— Busch Gardens Tampa Bay (@BuschGardens) March 30, 2019
Additional details and images on Kumba will be added in the future.



---
Sources:
"Coasters by the Numbers" Fact Sheet, Busch Gardens Tampa Bay 8/16/2016
Kumba | Busch Gardens Tampa – accessed 9/4/2016
St. Petersburg Times | April 22, 1993 – accessed 1/14/2017
BGTNation | May 2010 – accessed 9/26/2017
Busch Gardens Tampa | Aug 11 2015 – accessed 7/21/2018
Twitter – @MyBuschGardens | May 4 2010 – accessed 12/6/2018
Twitter – @BuschGardens | May 16 2011 – accessed 12/15/2018
Twitter – @BuschGardens | Aug 19 2011 – accessed 12/17/2018
Twitter – @BuschGardens | Jun 22 2014 – accessed 6/13/2019
Twitter – @BuschGardens | Sep 25 2016 – accessed 7/6/2019
Twitter – @BuschGardens | Mar 30 2019 – accessed 12/11/2019
Tampa Bay Times (St. Petersburg Times) | Apr 24 1993 – accessed 4/21/2020
Last update:: 4/21/2020