Connecting the Congo and Nairobi areas, Timbuktu opened in early 1980 with a new restaurant, amphitheater, and several attractions. The area was transformed in 2014 to become present-day Pantopia.
Fast Fasts
Official Open Date: January 25, 1980
Official "End" Date: April 30, 2014
Replaced By: Pantopia



---
History
In early February 1979, Busch Gardens officials announced a huge $12.3 million expansion that would add a new area connecting Congo and Nairobi. The seven-acre Timbuktu was expected to create 400 jobs at the park and open in December of 1979. The plans announced at that time included a 1,200 seat amphitheater for a dolphin show, a carousel featuring Arabian horses and camels, a spinning thrill ride called Crazy Camel, and "The Scorpion, a European designed 360-degree looping roller coaster." In addition to the attractions, also part of the announcement was a German-style restaurant and entertainment center, games of chance, and African craft exhibits.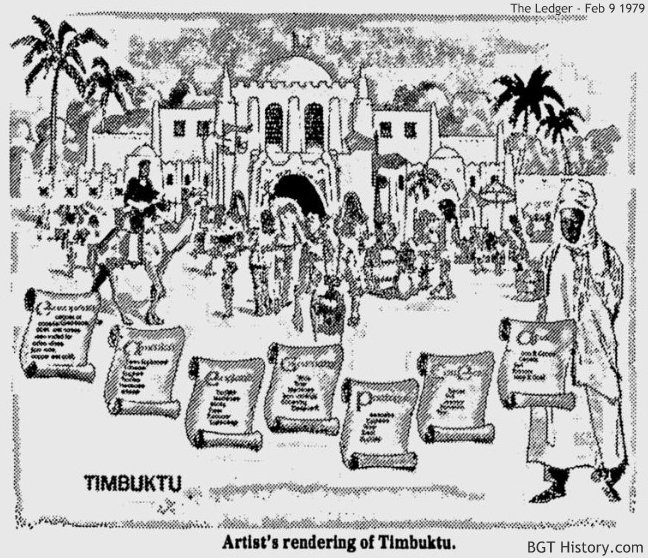 Timbuktu officially opened to guests on Friday, January 25th, 1980, at an estimated cost of $12.5 million according to a newspaper report. Opening day saw high school marching bands, dancers, and several celebrities as part of the festivities. Dinah Shore, a popular talk show host, served as the master of ceremonies, riding in on an elephant and delivering a proclamation opening the new area. Other celebrities on had included Rip Taylor and Chuck Woolery, who along with Jeff Conway and Carl Weathers were scheduled to appear on Shore's show which was taping on location that day.
Timbuktu was modeled after the real city by the same name along the fringes of the Sahara Desert in Africa. Tom Wilkins, architect for Busch Entertainment Corporation, spent a week in the actual Timbuktu studying and photographing buildings. The tower at the entrance from the Nairobi area was based on the design of ancient temples of Timbuktu.
Roughly seven acres, when Timbuktu opened the area featured several rides including Sandstorm, Crazy Camel, Carousel Caravan, and Bush Pilots, a dolphin show, various gift shops, craftsmen, an arcade, and several midway games. Not ready for opening day, Scorpion would open later.
Dolphins of the Deep was the first show in the outdoor theater on the northern side of Timbuktu. It featured two bottle-nose dolphins, Mich & Bud, who were able to perform about 30 different learned behaviors.
The main dining location when Timbuktu opened was Das Festhaus, modeled after a German beer hall. It even included daily shows with a live band playing German polkas and Barvarian style dressed dancers engaging audience members. How did a German beer hall fit in with the theme in the new area? Thomas Sharbaugh, who was the director of marketing for Busch Entertainment at the time, was quoted in a newspaper article saying "in the 15th and 16th centuries, Timbuktu was the crossroads of Africa. In our research we found that one of the first Europeans to ever reach Timbuktu was a German named Heinrich Barth" who opened a trading outpost in the city.
In 2013, work began to transform Timbuktu into Pantopia. While much of the architecture remained the same, some buildings were removed or modified, and a vibrant color scheme replaced the overall beige and muted tones.
By early February 2014, a new Relax and Recharge station sponsored by Southwest Air was completed outside of Desert Grill. The open-air station featured electrical outlets and USB ports, along with concrete bench-style seating for several guests.
Timbuktu was officially renamed Pantopia as of May 1, 2014.



Additional details and images about Timbuktu will be added in the future.
---
Sources:
Busch Gardens' 1970 Rollercoasters and Thrill Rides – accessed 1/17/2017
The Ledger | Jan 26 1980 – accessed 1/17/2017
Temple Terrace Beacon | Apr 10 1980 – accessed 7/16/2017
The Ledger | Feb 9 1979 – accessed 1/29/2018
Busch Gardens Tampa | Feb 3 2014 – accessed 4/28/2019
Twitter – @BuschGardens | May 1 2014 – accessed 5/9/2019